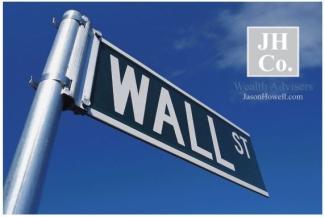 ECONOMIC COMMENTARY (02-11-2019)
Every month we share our personal commentary on economic forces challenging your money.  It's not "gospel" but it's what we think.  Have thoughts?  Please share in the comments below. 
I.          BEST FINANCIAL PLANNING PRACTICES
Update Financial Goals.  This is the time to reassess your financial plans for the year. Have you spoken with your loved ones about money yet in 2019?
Travel. If you are planning a vacation later this year, now is the time to book and start setting aside money for however much you plan to spend
Tax Preparation.  Schedule time with a tax preparer (CPA) now before they get too busy.  This is their busiest time of year. 
II.        ECONOMIC COMMENTARY
Volatility.  You survived December -congratulations.  December posted the worst stock market losses since the Great Depression of era (specifically 1931).  The Dow Jones Industrial Average (DJIA) was down 5.6%, the S&P 500 was down 6.2% and the NASDAQ was down 3.9%. The good news?  The markets have already "bounced back" to the highs of early December before all of those losses.  This is volatility and this is why we invest with the long term in mind.
Interest Rates.  A big reason for the volatility in December was the fear that the world was about to become less friendly to the markets. Business growth was projected to slow and the Federal Reserve (our central bank) was proposing to raise the federal funds rate – the rate that banks charge each other – three more times in 2019.  Well, they backed off of that goal which gives business more time to borrow at low interest rates.
Politics.  We survived the partial federal government shutdown only to be days away from the next one as I write this. The scary news is that Virginia politics is currently in a bigger state of chaos than Federal politics. Virginia politics will not affect the markets for the long term and even another shutdown will provide at worst a temporary political hit. The biggest concern is whether Standard & Poors and Moodys (bond rating companies) would be influenced in downgrading US debt because of politics as they did in 2011. Short of that it's business as usual.  
Jason Howell is a CERTIFIED FINANCIAL PLANNER™ professional, former U.S. Congressional candidate and President of Jason Howell Company.  He believes the American Dream is still attainable and is interested in meeting fellow Gen Xers who also believe they have something important to contribute to their their communities.  
To book an introductory call, click this link to choose a day/time: Free Consultation