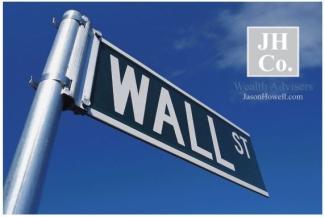 ECONOMIC COMMENTARY (02-11-2020)
Please enjoy our ECONOMIC COMMENTARY along with FAMILY GOVERNANCE & WEALTH MANAGEMENT strategies that we share monthly with our clients.  
I.          ECONOMIC COMMENTARY
Global events and the US elections are making the most news these days and by default, the economic news as well. Campaigns, elections and political drama – like the impeachment hearings – are usually good for moving the stock market up and down for a few days. That movement or "volatility" however, doesn't last. These past couple of months, the markets have moved so quickly that most didn't even see the volatility (which is just as well). The Coronavirus is so far less deadlier than the annual flu season but it's making news because of where the outbreak is metastasizing: China. If factories get shut down and consumers buy less in China, then there will be global repercussions for multi-national corporations like the ones that "run" the stock market. But even if this happens, the effect will be temporary. Markets recover faster than humans.
II.        FAMILY GOVERNANCE, WEALTH MANAGEMENT, ETC.
February is the kind of month that sneaks up on you then is gone before you know it (it's almost Valentine's Day). We recommend:
Family Governance: a great way to ensure your family is "OK," is to ensure that you and your spouse/partner are "OK." Buy a card, maybe flowers and/or brave the crowds this Valentine's weekend. Why not? Your future is bright
Taxes: schedule your tax preparation date with your accountant. If you don't this week, there's a high likelihood that you will need to file an extension
Retirement: it's early enough in the year to estimate your W-2 income or business income for 2020. Do that and you can – ask you CPA – estimate how much you set aside for retirement/tax purposes. Plan for this deduction all year long so you won't have a big retirement contribution in December
Jason Howell is a CERTIFIED FINANCIAL PLANNER™ professional, former U.S. Congressional candidate and President of Jason Howell Company. With an emphasis on sharing the "joy of financial planning" the Jason Howell Company develops parents into future patriarchs and matriarchs of their family and finances. Jason is the the author of JOY of Financial Planning: 7 Strategies for Transforming your Finances and Reclaiming your American Dream.​
To book an introductory call, click this link to choose a day/time: Free Consultation