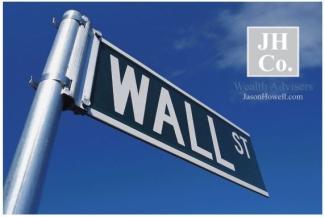 ECONOMIC COMMENTARY (03-11-2019)
Every month we share our personal commentary on economic forces challenging your money.  It's not "gospel" but it's what we think.  Have thoughts?  Please share in the comments below. 
I.          BEST FINANCIAL PLANNING PRACTICES
Fairfax County VICAP.  This program links Fairfax County residents to resources for understanding Medicare, Medigap and long-term care.  If you live in Fairfax County, Virginia, call 703-324-5851 for free, unbiased information.
Credit Freeze.  If you're not in the middle of a home refinance or buying a new car, now is as good a time as any to put a "credit freeze" on all new accounts that could be opened in your name.  It's the only known way to prevent fraud and it's currently free.  Contact Equifax, Experian or Transunion to put on the freeze.
SEP IRA Contributions.  This is the last month to make contributions to your Simplified Employee Pension (SEP) business owner IRA (if you are filing taxes on time.  Talk to your CPA about potential tax savings.
II.        ECONOMIC COMMENTARY
China Trade Deal.  Thanks to the promise of a trade "deal" between the United States and China on March 1st, the stock market was quite positive in February.  Naturally the deadline came and went – haven't they all – but a trade deal still looms positively for this Spring.  Such a deal would release tariffs on $250 billion of Chinese goods. 
Fed Chair.  A nice primer on the views of Federal Reserve Chairman Jerome Powell can be found in his rare interview on 60 minutes last Sunday (3/10/2019).  In it he describes the cautionary approach to raising interest rates and the satisfaction his committee has with the current rate of inflation.  That satisfaction has translated to fewer fears that the Federal Reserve will raise rates aggressively this year or at least take a "wait and see" approach. 
Jobs, Jobs, Jobs.  The economy only added 20,000 jobs in February, the smallest addition of jobs since September of 2017.  What does this mean? Well considering unemployment is below 4% it could mean that we are reaching an economic threshold of near "full employment." Full employment does not mean 0% unemployment by most economist standards but rather a range sufficient to represent that most people who want to be employed are indeed employed.  Whether that is determined to be true is up to Jerome Powell and his team of federal reserve bankers to manage (which could affect his decision to raise or lower interest rates). 
Jason Howell is a CERTIFIED FINANCIAL PLANNER™ professional, former U.S. Congressional candidate and President of Jason Howell Company.  He believes the American Dream is still attainable and is interested in meeting fellow Gen Xers who also believe they have something important to contribute to their their communities.  
To book an introductory call, click this link to choose a day/time: Free Consultation