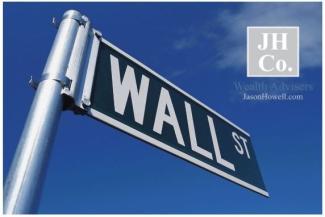 ECONOMIC COMMENTARY (04-08-2019)
Every month we share our personal commentary on economic forces challenging your money.  It's not "gospel" but it's what we think.  Have thoughts?  Please share in the comments below. 
I.       BEST FINANCIAL PLANNING PRACTICES
File Your Taxes.  Even if you can't pay your taxes on time, the penalty is 10 times smaller to file late and not pay (0.5%) vs. not filing on time (5%).
Vacation!  If you haven't started planning the details of your vacation, now is a great time to start looking at flights and hotels before the prices skyrocket!
Reset Your Goals.  April is Financial Literacy Month and also marks the 2nd quarter of the year. You still have 75% of the year to achieve any goal
II.        ECONOMIC COMMENTARY
Federal Reserve Picks.  Two potential candidates for the Federal Reserve Board have the political and financial class talking:  Stephen Moore, an economic commentator and Herman Cain, a former U.S Presidential Candidate and business executive.  These picks are generally thought to be out of the ordinary and could cause short-term disruption to the markets if selected and confirmed.    
Jobs, Jobs, Jobs.  The economy added 196,000 jobs in March and increased February's weak jobs report to 33,000.  Adding the increase in new jobs to a steady upward trend in wage growth has analysts feeling somewhat positive about the current state of the economy.
Get Ready for Earnings. 2017's Tax Cut and Jobs Act made 2018's quarterly earnings look great when compared to 2017).  "Earnings Season" begins next week as accountants will have had time to complete quarterly (January through March) numbers. Since there was no new stimulus – in fact, we had a record government shutdown – this first quarter of 2019 may not compare well to Q1 2018.  Expect short-term volatility in the stock market (for the rest of this year)
Jason Howell is a CERTIFIED FINANCIAL PLANNER™ professional, former U.S. Congressional candidate and President of Jason Howell Company.  He believes the American Dream is still attainable and every family can benefit from a process that passes along values along with wealth.  
To book an introductory call, click this link to choose a day/time: Free Consultation