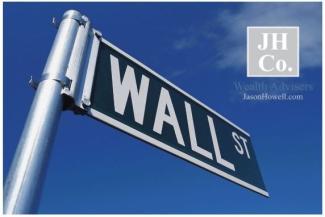 ECONOMIC COMMENTARY (05-08-2019)
Every month we share our personal commentary on economic forces challenging your money.  It's not "gospel" but it's what we think.  Have thoughts?  Please share in the comments below. 
I.          BEST FINANCIAL PLANNING PRACTICES
Annual Credit Check.  If you haven't already for the year, now before vacation season is a great time to check your credit report for anomalies.  You can check it once free per year at www.AnnualCreditReport.com
Rebalance Portfolios.  If you have been invested in the stock market anytime over the past 6 months, it might be time to "rebalance" your portfolio to your original security allocations.  Log in to your account and see what's changed
II.        ECONOMIC COMMENTARY
Trade.  Our economic competition with China is back in the news.  One week, the Chinese are considered to be not moving fast enough and the next day they're coming to visit the Oval Office.  The biggest mover of the stock market seems to be the "expert" opinions of how trade relations with China are going.  There is a 25% trade tariff in the offing (along with an expected retaliation) so there's good reason to expect short-term economic affects.  If you notice high volatility (stock markets moving up and down a lot) you'll know why.  
Jobs, Jobs, Jobs.  For April, the jobless rate fell to 3.6%, the lowest since the birth of Jennifer Lopez, Gwen Stefani and the Presidency of Richard Nixon.  It is important to note that the Bureau of Labor Statistics only counts people who are actively looking for jobs.  This is why the "Real Unemployment Rate" can be higher, accounting for discouraged workers. That said, 3.6% is low. J.LO low.
Initial Public Offerings. I have been fascinated recently by the initial public offerings (IPOs) of firms this year (all of which are not profitable).  There are firms like Beyond Meat (BYND) and Zoom Video (ZM) that have tripled in stock price since their first day of trading but also firms like Trevi Therapeutics (TRVI) and Super League Gaming (SLGG) with markedly lower stock prices than when they officially opened.  This month Uber's (UBER) highly anticipated IPO will hit the market.  Be wary.  Investing for the long-term means looking past the first few months into the long future of your retirement life. 
Jason Howell is a CERTIFIED FINANCIAL PLANNER™ professional, former U.S. Congressional candidate and President of Jason Howell Company.  With an emphasis on family wealth, the Jason Howell Company has created a process that incorporates the human values and traditions of each client family. 
To book an introductory call, click this link to choose a day/time: Free Consultation