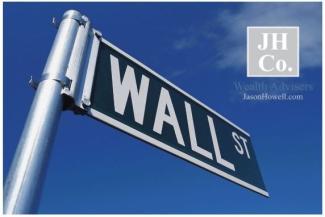 ECONOMIC COMMENTARY (06-08-2019)
In addition to your performance reporting and billing, this month you will find a few BEST FINANCIAL PLANNING PRACTICES and an ECONOMIC COMMENTARY. 
BEST FINANCIAL PLANNING PRACTICES
Check Your Credit. First American Financial Corporation, a home title insurance company, announced in May that 885 million mortgage records were breached.  Visit www.annualcreditreport.com to see if anyone is using your data
Host a Garage Sale.  Summer months are a good time to clean out your clutter and sell it for a few extra dollars. You will receive less than paid for your items which is exactly why garage sales are tax free!
Annual Health Physical.  We have long believed that it's cheaper to be healthy than to be sick. It's hard to schedule annual physicals around the holidays so make your health physical a mid-year habit.
II.        ECONOMIC COMMENTARY
Trade.  Well I had no idea when I started writing these summaries that "trade" would be such a persistent subject (but it is).  The trade relationship the United States has with it's closest neighbor Mexico and it's biggest trade partner, China is messy.  As of Saturday, June 8th, the 5% tariff threat on goods imported from Mexico has been taken off the table.  Mexico has promised to help with managing migrants at the border and we agreed not to force them to host Guatemalans that we deport.  More to come.  Regarding China, we're still holding the line, expecting concessions from China that reduce intellectual property theft and reduced tariffs on US goods. Currently our United States maintains a 25% tariff on about $200 million worth of Chinese goods.
Federal Reserve.  All signs point to Federal Reserve Chair Jerome Powell introducing a rate cut later this year. A reduction in the federal funds interest rates that banks use to lend each other money is a way to push economic indicators into positive territory.  This was helpful after the Great Recession in 2008.  The rate now stands at 2.5%.  It was a rate that was intended to be held through 2021 and we hope that's the case.  We believe the US economy does best when fiscal policy leads and monetary policy is a footnote.  We will see what happens later this year. 
Jason Howell is a CERTIFIED FINANCIAL PLANNER™ professional, former U.S. Congressional candidate and President of Jason Howell Company. With an emphasis on family wealth and time management, the Jason Howell Company devolops parents into future patriarchs and matriarchs. 
To book an introductory call, click this link to choose a day/time: Free Consultation