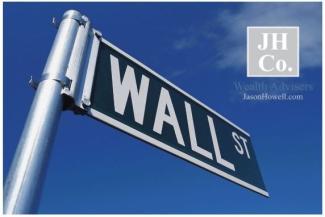 ECONOMIC COMMENTARY (07-10-2018)
Every month we share our personal commentary on economic forces challenging your money.  It's not "gospel" but it's what we think.  Have thoughts?  Please share in the comments below. 
I.       BEST FINANCIAL PLANNING PRACTICES
Your Budget. It's the middle of the year.  Do you know where your cash flow is headed?  How is your cable, phone and electric bill looking?  Are you eating out as little as you had budgeted for?  Now is a good time to reset.
Talk to a CPA.  Take the time this month or in August to talk with a CPA.  Your tax liability changed and tax planning in the Summer will reduce Spring surprises.
II.        ECONOMIC COMMENTARY
Trade. Well it has happened:  the United States has essentially declared "trade war" with China, if not already with the European Union.  Last Friday our country put a 25% "border tax" on $34 billion worth of Chinese goods.  China responded with $34 billion of trade tariffs on American imports.  There is general consensus that this trade war could go on for a while because neither side has declared (publicly) what it wants.  There are those who have educated guesses as to what's going on.  Mark Wu, law professor at Harvard believes the two parties are dealing with two sets of issues:
Lack of reciprocity with respect to market access, investment and tariffs
High tech industrial policy and the "Made-in-China 2025 initiative."
China believes it has already made enough concessions regarding the first point.  And according to Professor Wu, though the US would like China to dismantle their tech initiatives, China doesn't want to. 
Chin Leng Lim, law professor at the Chinese University of Hong Kong believes the current tariff dispute is illogical and the current US Administration's world view is outdated.  After the World Trade Organization (WTO) begain in 1994 – see last month's Economic Update – China joined the league of trading nations and began selling raw materials.  Professor Lim states, that there are "no rules" against trade surpluses.  And the WTO can't make China buy more.  The WTO does have a process for disputes to which China has previously made concessions. 
Matt Gold, former Deputy Assistant US Trade Representative states that "China also previously "paid" the United States by making concessions under the General Agreements on Tariffs and Trade (GATT) agreements.  According to Gold, the US is asking China to pay again.  Is it likely they will?  It would seem doubtful.  China is only part of the global trade confusion that has recently begun.  And we are just at the beginning. 
How should you react to all of the news on global affairs?  Pay attention so you remain informed.  In regards to your investments, we will stay the course. 
For more opinions on this topic from these and other experts, go to:
Can the US-China Trade War be Stopped?  11 Experts weigh in.
Jason Howell is a CERTIFIED FINANCIAL PLANNER™ and former U.S. Congressional candidate who became a financial adviser because he was concerned about the economic future of Generation X.  He is President of Jason Howell Company: an independent, fiduciary, wealth management firm that specializes in planning for the long term financial health of Gen X parents and their children. 
To engage Jason Howell Company as a prospective client, click through your answers on this one-page form to initiate a call:  One-Page Form