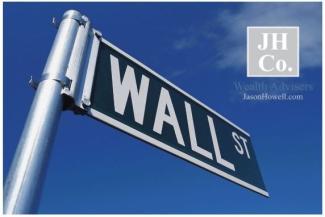 ECONOMIC COMMENTARY (08-13-2018)
Every month we share our personal commentary on economic forces challenging your money.  It's not "gospel" but it's what we think.  Have thoughts?  Please share in the comments below. 
I.       BEST FINANCIAL PLANNING PRACTICES
Talk to a CPA.  This may be your last month to plan a talk with a CPA before they get stingier with their time.  The IRS is just now starting to share guidelines for the "Tax Cut and Jobs Act."  If you have children or run a business, talk with a tax professional before their October deadlines.
401(k) allocations.  In a couple of months it will be open-enrollment for your employer benefits but you don't have to wait until then to "rebalance" your investments. Take a look at your retirement account to ensure it is categorized how you intended.
II.        ECONOMIC COMMENTARY
Strong Dollar.  Right now our American dollar is considered "strong" in relation to other currencies around the world. While this gives ourselves great purchasing power it does put a dent in sales of products priced in US dollars.   Oil is one of those products.  The world may soon feel the pain of relatively higher oil prices if our "strong dollar" positions maintains.  If sanctions on Iran cause the Iranians to pull 100s of thousands of barrels from the market, then we can expect to see our already climbing gas prices climb higher.
Turkey. After months of trade talks and "wars" Turkey has finally become the first economic casualty of steel and aluminum tariffs. It doesn't help that we just doubled sanctions on Turkey as a punitive response to their not returning 50-year-old Evangelical Minister Andrew Brunson.  It also doesn't help that Turkish President Tayyip Erdogan doesn't want to weaken the Turkish lira or increase interest rates despite his central bank's recent increases.  For now, it doesn't seem like Turkey's economic crisis - their interest rates have hit 17.75% - will contaminate the rest of the economy.
Corporate earnings.  Every quarter, there's a new opportunity of companies to report how their firms are doing and how they expect to do in the future.  These are called "earnings calls." Facebook had one of those calls a couple weeks ago and their stock dropped by 20%.  Most of the time the results aren't that drastic because CEO's and CFO's do their best to hedge performance in a way that won't hurt their company's stock prices (which is often tied to their personal compensation).  The good news is that most reports, even from our largest US companies have been positive.  There are still few signs pointing to eminent "trade war" affecting forecasts for growth.  Since August the stock market has been steadily growing week after week.
We monitor investments on your behalf taking note of large swings that would put you and your family out of "balance' with your goals.  Market fluctuation is a sign of a healthy market. 
Should you have questions, reach out to us personally.
Jason Howell is a CERTIFIED FINANCIAL PLANNER™ and former U.S. Congressional candidate who became a financial adviser because he was concerned about the economic future of Generation X.  He is President of Jason Howell Company: an independent, fiduciary, wealth management firm that specializes in planning for the long term financial health of Gen X parents and their children. 
To engage Jason Howell Company as a prospective client, click through your answers on this one-page form to initiate a call:  One-Page Form