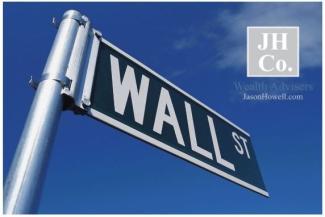 ECONOMIC COMMENTARY (09-10-2018)
Every month we share our personal commentary on economic forces challenging your money.  It's not "gospel" but it's what we think.  Have thoughts?  Please share in the comments below. 
I.          BEST FINANCIAL PLANNING PRACTICES
Beneficiaries.  When was the last time you reviewed your beneficiary information on your retirement account?  Did you notice that your individual brokerage, bank checking and savings accounts don't ask for a beneficiary?  Ask your banker or broker for a "Transfer on Death" form to add that information
Open Enrollment.  Open enrollment for most of you is in October.  Ask your human resources person for the information early, read through the material or send it to us to read for you.  There is money in those benefits!
II.        ECONOMIC COMMENTARY
Elections.  Law and money go together and so do lawmakers and fiscal policy.  Most political analysts expect the Democrat Party to take over the majority of the House of Representatives while conventional wisdom predicts the Republican Party will retain control of the Senate.  If our election results in November are different – for example if Democrats also with the Senate – expect some volatility (ups and downs) in the stock market as investors try to figure out what will happen with our United States President and his policy agenda
Trade. We seem to always talk about trade but that's because it always seems to make news.  Currently the United States is threatening China with about $200 Billion more in trade tariffs if China does not comply with our demands.  This is a looming threat over our economy because instead of buckling (or negotiating), China is looking to other measures to harm us like presenting a formal complaint with the World Trade Organization about our practices.  Then again, maybe that is negotiating.  Mexico and the United States have put in place a preliminary trade "deal" but it is contingent on agreement with Canada with who talks are ongoing.  Most seem to believe a "deal" will be made to replace – or at least improve – the trilateral North American Free Trade Agreement (NAFTA) by the end of this year
Corporate earnings.  Reports of corporate quarterly earnings are still strong and have helped to prop up stock market prices while the trade disputes are raging on.  Coupled with strong consumer sentiment (and spending), along with low unemployment, the corporate earnings provide a major headwind for our economy.  Will this rosy picture last through 2018?  No one "knows" but many predict continued strength through the holiday season
We monitor investments on your behalf taking note of large swings that would put you and your family out of "balance' with your goals.  Market fluctuation is a sign of a healthy market. Should you have questions, reach out to us personally.
Jason Howell is a CERTIFIED FINANCIAL PLANNER™ professional and former U.S. Congressional candidate who became a financial planner out of concern for the economic future of Generation X.  He is President of Jason Howell Company: an independent, fiduciary, wealth management firm that specializes in planning for the long term financial health of Gen X parents and their children. 
To engage Jason Howell Company as a prospective client, click and fill out this form to initiate a call:  One-Page Form