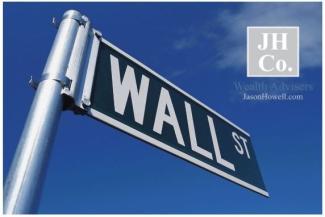 ECONOMIC COMMENTARY (09-18-2019)
Please enjoy our ECONOMIC COMMENTARY,  TIME & WEALTH MANAGEMENT strategies that we share monthly with our clients.  
I.          ECONOMIC COMMENTARY
For months now, we in the financial advice community have been waiting for the other proverbial "shoe to drop." Like many of our clients, we have noticed the record "up markets" and like our clients, worry when the next recession or at least correction will happen. In part, this is the point of "sitting on the same side of the table" as our clients with a fee pegged to the value of their portfolios. Whether it's a federal funds interest rate cut, a report on business or consumer sentiment, unemployment numbers or housing starts, many of us are trying to do the impossible: predict the future. Except we can't. And that is why at Jason Howell Company, we are financial planners: professionals who promise to account for the risk and return as best as possible, according to your family's needs. We plan for the ups and downs of the markets and life.  The Dow Jones Industrial Average (DOW) and the Standard & Poors 500 (S&P 500) market indices will get lower, likely sooner rather than later; but your plan will only change if you do.
II.        TIME & WEALTH MANAGEMENT
Home Loan Refinancing. Speaking of "rates" we are, as we have been for 10 years now in a historically low mortgage interest rate environment. If your mortgage loan rate(s) is anything over 4%, talk with your lender about a strategy to lower your monthly payment (or reduce the length of time you need to pay back your loan(s)).
Family Governance. Earlier this month I delivered a talk to a room filled with fellow financial professionals about the benefit of family governance. In short, family governance is the wealthy family's system for nurturing values, traditions and wealth that is passed onto the next generation. We believe that working families can become "high net worth" families (over $5 million in net worth) within one generation. More on this in the coming days.
Current Clients. Please watch your inbox for a survey from our firm. we want to ensure that you, our current clients are getting what you want out of our equally personal and professional relationship. To that end, we have value-based questions we would like you to answer. Please do.
Jason Howell is a CERTIFIED FINANCIAL PLANNER™ professional, former U.S. Congressional candidate and President of Jason Howell Company.With an emphasis on family wealth and time management, the Jason Howell Company develops parents into future patriarchs and matriarchs. Jason is also the the author of JOY of Financial Planning: 7 Strategies for Transforming your Finances and Reclaiming your American Dream (Release date: November 2019).​
To book an introductory call, click this link to choose a day/time: Free Consultation