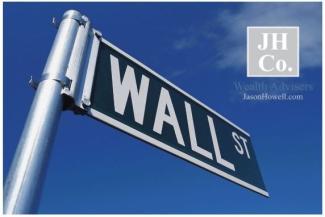 ECONOMIC COMMENTARY (10-08-2018)
Every month we share our personal commentary on economic forces challenging your money.  It's not "gospel" but it's what we think.  Have thoughts?  Please share in the comments below. 
I.          BEST FINANCIAL PLANNING PRACTICES
Free Credit Freezes. (From FTC.gov) "Security freezes, also known as credit freezes, restrict access to your credit file, making it harder for identity thieves to open new accounts in your name. Starting September 21, 2018, you can freeze and unfreeze your credit file for free. You also can get a free freeze for your children who are under 16. And if you are someone's guardian, conservator or have a valid power of attorney, you can get a free freeze for that person, too."
Open Enrollment.  Let us review your work benefits!  For many of you it's time to take a fresh look at the benefits you receive at work and make some choices.  For some of you no changes will be made but for others, some changes could save you money.
October 15, 2017 Tax Deadlines.  Your 2017 tax return (1040) is finally due, even with extensions, by October 15th.  So are any contributions you need to make to a SEP IRA or SIMPLE IRA for tax year 2017.
II.        ECONOMIC COMMENTARY
Markets.  Recently – i.e. the past few trading days – you may have noticed the stock market indices ending lower by 1 or 2%.  As I write this, the same is happening today.  Does this mean the stock market boom we've had for 9+ years is finally over?  I don't know.  What I do know is interest rates are rising and that gives older investors options when it comes to choosing less risky return (like investing in the bond market instead of relying upon dividend yield).  I also recognize that our country is in a rising interest rate posture while countries overseas are still lowering interest rates for their banks. Notably corporate earnings have still been strong but predicted earnings may start to weaken.  All this means that there is a lot to react to if you are the reacting kind.  We choose to be "in the market" rather than in and out.
Trade. The USMCA or United States-Mexico-Canada Agreement has been agreed to by each country's leaders (including ours) but the deal has not yet been ratified by any government (including our US Congress).  Cars must have 75% (up from 62.5%) of their parts manufactured in one of the three countries to qualify for zero tariffs; books and pharmaceutical intellectual property will now enjoy 70 years of copyright/trademark protections rather than 50 years; American dairy farmers may receive more access to Canadian dairy markets; there is a 16 years sunset clause.
Politics.  This past week Judge Brett Kavanaugh was appointed to the Supreme Court as an Associate Justice.  The "advise and consent" hearings in the United States Senate did nothing to cool the flames of partisanship and November's elections will take on significance: by either changing party leadership in the House or Senate or not changing at all.  Judge Kavanaugh's appointment creates a 5-4 majority for conservatives which tends to favor business interests (in the short run). In November, markets expect a change in the US House of Representatives from Republican control to Democrat control.  That change is not expected in the United States Senate.  What actually happens one month away is anybody's guess but our belief is market reactions to politics are often short lived.
Jason Howell is a CERTIFIED FINANCIAL PLANNER™ professional and former U.S. Congressional candidate who became a financial planner out of concern for the economic future of Generation X.  He is President of Jason Howell Company: an independent, fiduciary, wealth management firm that specializes in planning for the long term financial health of Gen X parents and their children. 
To engage Jason Howell Company as a prospective client, click and fill out this form to initiate a call:  One-Page Form