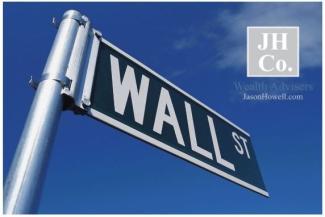 ECONOMIC COMMENTARY (11-08-2019)
Please enjoy our ECONOMIC COMMENTARY along with FAMILY GOVERNANCE & WEALTH MANAGEMENT strategies that we share monthly with our clients.  
I.          ECONOMIC COMMENTARY
The United States economy is still an oasis of positivity in a world where Europe, Japan and China's economies are struggling and Hong Kong is imploding. Some of the most famous companies based here have stock prices that are hitting record highs: Amazon, Microsoft, Disney and others. Our firm's investment philosophy doesn't look as good when the non-US world economies are suffering and the United States is dominating. Why invest equally in the overall US and international equity markets when making a bet on one company – like Microsoft – would have you "up" 50% this year? Because we don't make "bets" with our client's money.
 Our investment philosophy can be summarized as our best interpretation to date of NOBEL LAUREATE EUGENE FAMA'S research on the efficient market theory. He identified that value stocks outperformed growth stocks over long periods of time. This has historically, though not necessarily predictably, allowed for higher returns with lower risk when evaluated over decades. We take that concept one step further by investing in value proportionally across the entire world's equity. For our investors who are interested in taking more risk with some of their money, we will have options for you in 2020. For the majority of our investors who are investing family money for the long term (perhaps generations), we will continue to follow an academically sound philosophy. 
II.        FAMILY GOVERNANCE, WEALTH MANAGEMENT, ETC.
Since the establishment of Jason Howell Company, we have sought out ways to bring the best of wealth management from the ULTRA-HIGH-NET-WORTH families to "regular-net-worth" families. We believe strongly in the value to the community of developing new high-net-worth and high-self-worth client families across the Washington, DC metropolitan area and around the country. We have recently redesigned our wealth management model for our clients that we will debut on December 3rd. Our pricing structure will change (for some), our relationship with our clients will be enhanced and our value proposition will increase. We look forward to sharing this opportunity with each of our client families over the coming weeks as we head into 2020.
Jason Howell is a CERTIFIED FINANCIAL PLANNER™ professional, former U.S. Congressional candidate and President of Jason Howell Company.With an emphasis on family wealth and time management, the Jason Howell Company develops parents into future patriarchs and matriarchs. Jason is also the the author of JOY of Financial Planning: 7 Strategies for Transforming your Finances and Reclaiming your American Dream.​
To book an introductory call, click this link to choose a day/time: Free Consultation