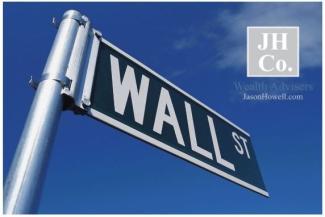 ECONOMIC COMMENTARY (12-14-2018)
Every month we share our personal commentary on economic forces challenging your money.  It's not "gospel" but it's what we think.  Have thoughts?  Please share in the comments below. 
I.            BEST FINANCIAL PLANNING PRACTICES
Flexible Spending Account.  Be sure to "use or lose" any funds left in your flexible spending account.  You have less than 15 days!
VIRGINIA 529. You still have time to make up to a $4,000 contribution to a Virginia 529 college savings account.  You have until the end of this month.
Tax Planning.  Not only have taxes changed but so have the forms!  If you haven't spoken with a CPA yet for tax planning, you may be surprised by your tax liability in the new year.  Spend an hour with a qualified tax preparer so you can "prepare."
Spend with Cash.  It's the time of year when your heart moves ahead of your head.  Use cash instead (your debit card) instead of your credit card when making purchases and you may find that you spend a whole lot less.
II.        ECONOMIC COMMENTARY
Volatility.  If you have been watching the stock market on a daily basis – well firstly, stop doing that – you've likely been upset.  The "markets" are "up" in the morning and less so typically by the closing bell at 4pm.  In large part this has to do with factors that do not affect long term growth like the politics of the day.  We are on the back-side of a 10-year growth spurt leading to general uncertainty by traders who's job it is to predict the markets.  We are not "market timers," we are investors and as investors we expect volatility.  The ups and downs prove that there is risk and reward by investing in the stock market. 
Interest Rates.  It is widely expected that Federal Reserve (our central bank) will choose to raise the federal funds rate – the rate that banks charge each other – one more time this year on December 19th.  Be ye not afraid!  It is the Federal Open Market Committee's (FOMC) way of getting interest to "normalize" again.  With the increased volatility caused in part by trade talks, the predicted FOMC meetings in 2019 may produce 1 or 2 fewer federal funds rate hikes the previously predicted.  In the short term, the biggest effect to your portfolio is how much interest your savings account will pay.
Politics.  There is plenty of drama in the White House and the legislative branch but nothing worthy of writing extensively about. By February, when Democrats have actually taken over the U.S. House of Representatives there may be proceedings that affect the short-term markets but they too will not matter to long term investors. 
Jason Howell is a CERTIFIED FINANCIAL PLANNER™ professional and former U.S. Congressional candidate.  He became a financial planner out of concern for the economic future of Generation X.  And he is President of Jason Howell Company: an independent, fiduciary, wealth management firm that specializes in planning for the long term financial health of Gen X parents and their children. 
To book an introductory call, click this link to choose a day/time: Free Consultation