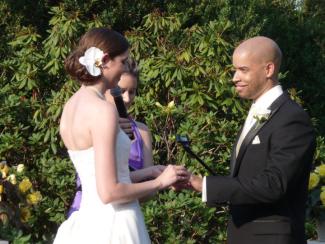 You are overwhelmed. You try not to show your worry but you worry. You're not sure if you're doing everything right when it comes to finances. You wonder what everyone else is doing and how they are doing it. You are not alone (or at least, you don't have to be alone). Let me tell you a story.
When I first got married, I thought it would be nice to get a life insurance policy. My sense of responsibility had increased and still buzzing off of the fact that someone chose me, I wanted to reward that gift with my human life value. My wife and I were married for 5 years before we had children. We traveled to three vacation resorts during our first year of marriage, I ran for United States Congress, we hung out with friends almost every weekend. Life wasn't a party but it was close.  After we had children the stress level markedly increased. That sense of responsibility that peacefully rippled towards my heart before was now a tsunami of unpredictable emotions. Managing fatherhood, husband-hood, in-law-hood, sibling-hood and financial adviser-hood was, now and again, overwhelming. What could I do to not got crazy?
The answer for me was create. I doubled-down. A little after a year my first daughter was born, I quit my job with a Fortune 100 firm and started a business. A year later I started studying for the CFP® exam.  The more risks I took, the more the urgency of my success increased . Thankfully, it all worked out. The subject with which I was becoming expert was financial planning. It taught me patience, risk vs reward, money and how it relates to family and how to manage dreams. Had I not be studying money and its many parts, my ability to double-down might have been greatly reduced or if attempted, ended in failure. 
The old phrase, The Straw That Broke the Camel's Back refers to an idiom "the camel's back." According to Merriam-Webster, it is "The last in a series of bad things that happen to make someone very upset, angry, (or otherwise)." Seeking out a financial planner is not one of the typical things you think of when building out your life. Many "straws" need to be added to your back before that thought comes to mind. I have found that the tsunami of unpredictable emotions accumulates after a number of the following start piling up:
You get married
You rent an apartment
You start to hate renting
You get a promotion
You buy a house
You have a kid
You start paying for daycare
You have another kid
You do the math and you start paying for more daycare (with a 10% discount)
Your first kid enters the public school system 
Your first kid enters the "after-school care" system
Same with the second kid
Your kids start sports
Your parents get older, miss you more, need your more
You start traveling for work
Your spouse needs you more
You start looking for a job with less travel
You accept a new job
You start reading through the benefits
Your spouse helps you read through the benefits
You both get bored
You skip to the TSP, 401(k), 457 or 403(b) plan
Now you're confused
You remember you had an old 401(k)
You actually have two old ones
Your kids start asking questions about allowance
You eat out because neither of you want to cook
You realize that happens lot
Your car needs to be replaced
You're confused about why people lease cars
You're thinking of buying another home
You're thinking of starting your own business
Your boss goes on disability 
You wonder how long she can do that
You owe Virginia $2,000 in taxes but Federal $300
You really need to get around to "doing" an estate plan
Any one of these things could be the "straw" that breaks the proverbial camel's back. Typically when clients reach out to Jason Howell Company, they just want to make sure "..they're doing everything right." It's that adulting moment when they realize this is their one life (and they don't want to screw it up financially). If these "straws" are building up for you, don't let them drive you crazy, or worse to failure. Get some help.
This is Northern Virginia after all and we're very used to winning. 
Jason Howell is a CERTIFIED FINANCIAL PLANNER™ professional, former U.S. Congressional candidate and President of Jason Howell Company. With an emphasis on developing high-net-worth families through family governance, the Jason Howell Company develops parents into future patriarchs and matriarchs. Jason is also the the author of JOY of Financial Planning: 7 Strategies for Transforming your Finances and Reclaiming your American Dream.​
To book an introductory call, click this link to choose a day/time: Free Consultation