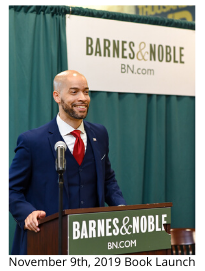 Joy of the Season #JOYofFinancialPlanning
Whenever I told people the name of the book I was writing, they laughed. Then when I actually wrote it they were honest: "I don't often associate those two topics together" they'd say. Then this past Sunday, while sitting in church, I found the best metaphor for describing my new book, JOY of Financial Planning. 
What is JOY of Financial Planning: 7 Strategies for Transforming Your Finances and Reclaiming Your American Dream about? You mean besides the 7 strategies?  I had the glad honor of sharing my response to this question during two successive Saturday's at Barnes & Noble book signings held at Tysons Corner Center mall. The events were a successful transition from professionally publishing a book to bringing it to life. Personally, I was overwhelmed to see the support of over 100 old friends, co-workers and family; some of whom I hadn't seen in over 10 years. There are times when past careers and friendships have felt like someone else's lifetime. The price you pay for being busy - starting a family, a business, writing a book - is losing touch with people who mattered in "prior lives." On November 9th and 16th, the past and present were reunited. I was reminded that I've never been alone on any of my journeys throughout life; and my "team" has only grown for my latest mission. 
This generation of adults (millennials and Gen X'ers) needs financial planning more than any other generation in U.S. history. This book outlines financial strategies of course, but it is really about transformation and rekindling the joy of the American Dream. Together we can transform..
..pessimism into optimism
..apathy into leadership
..confusion into clarity
..passion into action
..and potential into success
As a generation, we have so much potential.
The real joy of the American Dream has always been about transformation: from who you are today to the person you could become. More specifically, the family you are today to the family you can become. The American Dream has always been more about your last name than your first name. Though it has demanded individual effort it has always been for the collective good of family, community and even our country.  This is and has been true whether you were born here or somewhere else; whether you are a citizen of the United States of America or as a newly inaugurated President John F. Kennedy once quoted, a citizen of the world.  So what does "joy" have to do with it?
Adventus
This past Sunday, December 8th, 2019, was the 2nd Sunday of what the Christian church calls "Advent," taken from the Latin, Adventus i.e. "coming arrival." My Pastor Bryan Mickle started his sermon as he normally does, with an anecdote. He mentioned that his sister, a marketing executive, tells him every year that "the church" is missing a great branding opportunity by not singing Christmas carols during the four Sundays leading up to December 25th. Instead, we sing the longing, seemingly sorrowful songs of Advent; apparently "wasting" the opportunity to attract new visitors with the good cheer of the old standards. As Pastor Bryan explained, focusing on Christmas (carols) rather than Advent (hymns) is tantamount to focusing on the destination rather than the journey. Or using his metaphor, it would be like watching Ebeneezer Scrooge's awakening at the end of A Christmas Carol without watching/reading the first 90% of the story. We need to see the ugly parts of Ebeneezer Scrooge to understand the beauty and miracle of his transformation. And that perfectly describes the "JOY" of financial planning: the discipline of the 7 strategies lead to the dream of transformation.
JOY of Financial Planning
In our current economy you are either rich or you're broke. Many of us are one or two paychecks away from insolvency. We somehow need to overcome the challenges of a bipolar economy; where you can become a have-not with one job change, one health crisis, one precipitous drop of the stock market. JOY of Financial Planning is about overcoming those challenges. It is about believing the American Dream of transformation is possible; not just for you but also for your family. And it's an understanding that not only is it possible, it is necessary.  It is necessary that you succeed so that we are not the first American generation to be worse off economically than our parents. But successes and joys of the American Dream don't begin with awakening one day and miraculously transforming. That transformation is earned through daily living in:
Harmony with your values
Balance with your priorities
Safety with your family
Knowing how much is enough
Living you legacy
Taking advantage of your opportunities
Making the best use of your time on this earth
These are the themes behind the 7 financial strategies outlined in the 369 page book, JOY of Financial Planning. Woven into those themes are the history and concepts behind everything from estate planning to tax planning; budgeting to investing; debt management to cash management; family governance to living a real life in retirement. It was written with real life professional and personal experiences included. As a professional I have to articulate that this book cannot be considered advice but it can serve as a foundation for understanding advice you receive from licensed professionals. Not everyone in my profession operates in your best interests so the more information you have going into a meeting, the better.
I believe that we can become the change we want to see in our world; and we can transform our families and our communities within one generation (within this generation).  I believe that our generation is the one we have all been waiting for. I believe it starts with you, it starts with me; your family, my family and our community.
The world didn't need another finance book. My goal was to brighten, at least a little, the dark mysteries of personal finance; and reveal them to the "down-to-earth net worth" among us. The foundation is financial education, the goal is transformation and the ends are reclaiming our American Dream. I hope you enjoy the book and experience the joy of the holiday season, however you celebrate.
The greatest achievement was at first and for a time a dream. The oak sleeps in the acorn; the bird waits in the egg; and in the highest vision of the soul a waking angel stirs. Dreams are the seedlings of realities.

~ James Allen, As a Man Thinketh
Jason Howell is a CERTIFIED FINANCIAL PLANNER™ professional, former U.S. Congressional candidate and President of Jason Howell Company. With an emphasis on developing high-net-worth families through family governance, the Jason Howell Company develops parents into future patriarchs and matriarchs. Jason is also the the author of JOY of Financial Planning: 7 Strategies for Transforming your Finances and Reclaiming your American Dream.​
To help #ShareTheJOY, please read, review and pass it on. #JOYFace #JOYofFinancialPlanning
To connect directly with Jason, click this link to choose a day/time: Free Consultation