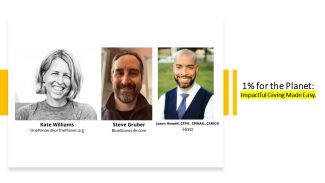 1% for the Planet: Impactful Giving Made Easy
"Take some action that you can incorporate. Make it as joyful as possible. Have it be fueled by something you're connected to; that "tree outside your house. If you start today - and this is probably a good thing to say to people who are focused on investing because it's the same principle - start today and then keep doing it. And if it's something that you can do a little bit of every day, that adds up over time. Whereas if you bite off so much and you feel overwhelmed by what you've chosen, you're going to stop. And then where will you be? Keep it small, keep it passionate and it will grow and it will be meaningful and you will be psyched." 

- Kate Williams, CEO, 1% for the Planet 
Who can spare 1% of their income for wild trout, wolverines and grizzly bears? The founders of Patagonia and Blue Ribbon Flies could so they founded 1% for the Planet in 2002. Join Kate Williams, CEO of 1% for the Planet (https://www.onepercentfortheplanet.org/) and Steve Gruber, Director of Operations for Bluestone Life (https://www.bluestonelife.com/) for a discussion about: WHY only 3% of philanthropy goes to the environment and HOW 1% has "certified" over $250 million of donations from 3,000 members! (see videos) 
During our 47 minute conversation we covered a range of topics for getting started and becoming consistent with sustainable (environmental) giving. There are giving options for for-profits, non-profits and individuals. Here are a few of the questions we answered:
Kate, what is the BIG IDEA behind 1% for the Planet?
Steve, what exactly attracted Bluestone Life to get involved?
Kate, how do you bring "dollars and doers" together? 
Steve, what's the experience (and reaction) been like from your clients?
Kate, how can individuals get involved? 
Kate, what's NEXT??
Jason Howell Company (JHCo.) is an independent, family wealth management firm run by two owners who consider it their family business. Jason J. Howell, CFP®, CPWA®, CSRIC® and Douglas W. Tees, MBA, CFP® are both married to patient wives and are dedicated to their kids.
The firm owners believe that busy, dual income couples should feel good about building wealth for their families. "Feeling good" begins with building your financial plan and continues with drafting your family values, standards and aspiration around money into a family constitution. Building this "family constitution" through a family governance process is what makes Jason Howell Company unique. We also help our clients implement a sustainable investment strategy (SRI, ESG) and a proactive strategy for philanthropy. And despite how serious this all can be, the two owners strive to keep keep meetings lighthearted with their energy and good humor. 
Jason Howell Company: Feel Good About Your Money™
To feel good about your money, just book an introductory call here: Introductory Call