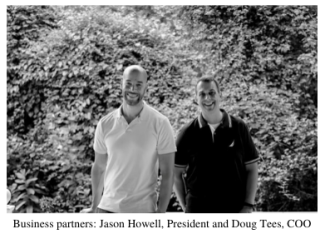 2020 VISION for JASON HOWELL COMPANY
Ultra-high-net-worth families – worth at least $25 million – are similar to "regular-net-worth" families: they want their values and traditions to live on; and they want the best for their kids. No one created a model for the "down to earth-net-worth" families of Northern Virginia to put these systems in place. Until now.
OUR NEW LEVEL OF SERVICE
2020 will launch a new level of service and increase in value to our family of clients.   
When the Jason Howell Company was launched four years ago, the goal was to create a firm that not only acted in the best interest of the clients but also brought the best value to clients and their families. We looked to the "family office" model for guidance. What we recognized is when all of a family's advisors collaborate (investment advisors, estate planners, tax preparers, insurance advisors, etc). the client family is much better off. We also learned that ultra-high-net-worth families – worth at least $25 million – are similar to "regular-net-worth" families: they want their values and traditions to live on; and they want the best for their kids. It was just that no one created a model for the "down to earth-net-worth" families of Northern Virginia to put these systems in place. Until now.
A BRIEF HISTORY OF JASON HOWELL COMPANY
Only a few of you know that Jason Howell Company started as a boutique, flat-fee shop. For a flat, quarterly fee, you could get advice on any part of your financial life. In 2015, the conversation going around in financial trade magazines was that clients didn't want a big "financial plan," they just wanted some advice they could implement. So I met with clients monthly to deliver that advice, starting with budgeting. Months would go by and the conversations seemed stuck in cash-flow. By 2016 I added a custodian to manage money for clients. Today that custodian is TD Ameritrade Institutional. You may have heard that Charles Schwab is merging with TD Ameritrade. This is true. The deal, if approved by regulators, will close sometime next Summer. Until then it is business as usual.
In addition to adding a strong custodian to hold client investment accounts, 2016 and 2017 were years where I added relationships with estate attorneys, CPAs, mortgage brokers, insurance brokers and others. These relationships allow Jason Howell Company to create an "a la carte" family office feel where all outside family advisors are communicating and helping the client family win. 2017 was also the year I earned the CERTIFIED FINANCIAL PLANNER™ marks, initiated an up-front fee and brought on Doug Tees to double the capacity of the firm. We bucked the national trend of not creating multi-page financial plans and started delivering that comprehensive plan value to clients up front. By 2018 we started to make headlines; most notably in the New York Times, for a business model that democratized wealth management for clients who wanted a flat-fee option. Most of our referrals that year came from other financial advice firms that no longer offered a flat-fee model. Yet something still wasn't right. We found ourselves pouring more than 30 hours into financial plans that went to clients who paid our fee and later tried to execute on their own. This is a valuable service we still offer in 2019 but not the ideal relationship that both Doug – who became a vested partner in the firm earlier this year – and I want to have with our clients. The value in financial planning is "planning" not the plans: the ongoing review and recalibration of plans. Because lives change, plans must change. And we want to be "on call" when they do.
2020 VISION
Admittedly, four years is not a long time, but neither Doug nor I are new to the journey of adulthood. And adulthood, specifically adapting to that "growing family" phase of life has become the specialty of our financial planning firm. We work best with families run by highly educated, high earning (high stress), dual-income couples with kids. Like them, we are highly representative of this competitive, expensive, beautiful suburb we call Northern Virginia. We have degrees, we have credentials, we have kids and we still have dreams. To grow our firm, we realize that we need to spend more time not less, on each of our client families. We need to deliver more value than a monthly report or a few check-ins per year. At the least, we should offer more structure to the chaotic dance of life and money management for our clients. 
We are a growing firm.  We have a goal of adding two new client families per month next year. But we are equally interested in growing our relationship with our current clients by delivering more value to your family's financial lives. 
The book, JOY of Financial Planning, officially launched today, December 3, 2019. After 369 pages of sharing our methodologies, we realized that our ongoing clients could likely use a little more help implementing the complex financial plans we create for them.  A non-comprehensive list of areas where we plan to provide additional value include:
Creating a consistent, predictable schedule for "money meetings"
Leading the creation of our client family's financial "Team of Advisors (ToA)"
Implementing agreed upon recommendations with our client's financial ToA
Walking our client's through creating their personalized "Family Constitution"
Assisting our client's CPA/tax attorney with tax planning opportunities
Helping to select benefits annually during open enrollment
Optimizing present and future charitable giving and/or inheritances
Making our client's personal financial information easily accessible
Planning annual spending/saving/investing/charity, etc. in January
For our client families, their surnames are more important than their first names. We expect that our client families are ambitious. We expect that they want to improve the trajectory of their family's financial growth now and for generations to come. And we want Jason Howell Company to be an intimate part of that trajectory; now and 100 years from now. We reestablish that commitment in 2020 with a business model that does not cost the 100s of thousands of dollars that it takes to hire a traditional family office. In fairness, we also won't require the requisite $25 million in family net worth.
For some of our clients, their fees for all of this will remain the same, for others it will adjust; for all clients, the value we offer will increase. And the topic of value is a conversation we endeavor to have with our clients on an ongoing basis.
We look forward to furthering this conversation with each of our clients (and prospective clients) over the coming weeks.
Jason Howell is a CERTIFIED FINANCIAL PLANNER™ professional, former U.S. Congressional candidate and President of Jason Howell Company. With an emphasis on developing high-net-worth families through family governance, the Jason Howell Company develops parents into future patriarchs and matriarchs. Jason is also the the author of JOY of Financial Planning: 7 Strategies for Transforming your Finances and Reclaiming your American Dream.​
To book an introductory call, click this link to choose a day/time: Free Consultation