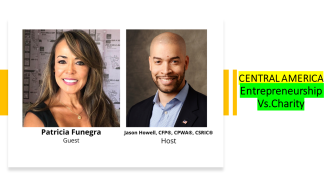 Central America: Entrepreneurship vs. Charity
"Educate ourselves. It is really hard to be empathic and understand the challenges and the obstacles from the United States; from our safe and secure place. I will invite everybody to connect, ask questions, to learn, to put ourselves in those situations and take some type of action.

I'm here to collect ideas, to collect funds that will increase our opportunities for our interventions to succeed."

- Patricia Funegra
In 2014 Paty founded La Cocina VA, a nonprofit organization serving the DC Metropolitan region through vocational and technical education supporting regional workforce and small business development strategies. She has worked tirelessly to educate and empower women, immigrants, and minorities by building a comprehensive support network to assure their successes. As a Speaker for the US Department of State's Bureau of International Information Program in 2018, Paty traveled to developing countries to promote economic development through workforce and entrepreneurship and was able to build global economic impact in communities in Honduras, Peru, Bolivia, Iraq, and Equatorial Guinea. 
Paty is now using her talents to create Global Development Advisors to:
Identify the gaps in Central American countries that the entrepreneurs in those communities need
Implement a regional business "accelerator"
Create and deploy an impact investment fund
During our discussion, Paty answered the following questions:
How did your work at La Cocina VA inspire Global Development Advisors? 
How would you describe the root causes of US border challenges? 
Why invest in Central vs. South America? 
How do you see Central America improving in 10 years? 
What are the future goals of Global Development Advisors?
Jason Howell Company (JHCo.) is an independent, family wealth management firm run by two owners who consider it their family business. Jason J. Howell, CFP®, CPWA®, CSRIC® and Douglas W. Tees, MBA, CFP® are both married to patient wives and are dedicated to their kids.
The firm owners believe that serving families through a process that supports family harmony, preserves family history and nurtures family values is the key to true wealth. It begins with a sustainable Investment Strategy and continues by equipping client families with three (3) tools for creating sustainable wealth. Most JHCo. clients invest their time, talent and treasure in the community. Jason Howell Company enjoys serving clients who go beyond being stockholders to becoming true "stakeholders." JHCo. calls this work total family governance and it's their specialty. We're also pretty good at executive compensation (stock options and grants). 
Your Family. Your Values. Your Money.
To learn about our client experience, just book an introductory call here: Introductory Call