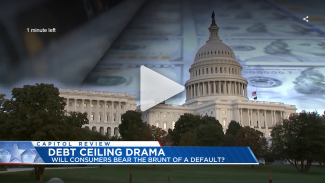 DC NEWS NOW: Debt Ceiling Drama: The Impact to Americans
On February 1st, award-winning consumer journalist Ben Dennis interviewed me about restaurant fees facing new customers during the gradual reopening of our economy. The conversation took  a broader, graver tone when he asked about the potential debt limit crisis facing the global economy.  
Longtime readers of this space may recall our October 2021, Letter to Stakeholders where we briefly outlined the economic history of the debt ceiling: 
Why it Matters
Beyond the quaint custom of paying our creditors – foreign countries, other investors – raising the debt ceiling is important on a macro-economic level. Our country is known and respected for many things, none the least of which is economic stability. As my investment advisor peers know, when there is a market crash, the world "flocks" to invest in US debt as a "safe haven." When we studied finance, we used the interest from [US. Treasury] bonds as the "guaranteed" discount rate in present and future value calculations. Since World War II, the strength of the US economy has made the US dollar the world's reserve currency.  The "Full, Faith and Credit" of the United States of America is important to the world and has been critically so, for decades. President Joe Biden and JPMorgan CEO Jamie Dimon and other CEOs met this week to reinforce this very important point.
Here's a clip from our brief interview: 
---
Jason Howell Company is an independent, family wealth management firm run by two owners who believe you should feel good about money.
Jason J. Howell, CFP®, CPWA®, CSRIC® and Douglas W. Tees, MBA, CFP®  are each married to patient wives and are dedicated to their kids. Jason and Doug have built a firm with a great reputation. The firm is based in Northern Virginia but serves clients (virtually) all throughout the United States.  
Our typical "first generation" client households include dual income parents who work, save and have just the right amount of fun. They trend a little older - Gen-Xers (born 1965 - 1980) and Boomers (born 1946 - 1964) - but we're starting to see more Millennials (born 1981 to 1996) who don't want to wait until it's too late. They earn impressive incomes and have accumulated (or are accumulating) a good bit of savings. As experts themselves, they expect expertise from people they hire.  
First generation clients feel more confident about their decisions because:
Implementing a professional investment strategy relieves the stress of managing $1 Million+ 
Discussing money with professionals improves family communication about  family values and lifestyle
Identifying time and money for causes they believe in make them feel like whole persons
Working directly with independent business owners rather than "big box" bank employees just feels right
Redefining the meaning of affluence in the 2020s (and beyond) is important to their legacy
To start feeling more confidence and less anxiety about your money decisions, schedule a no obligation Introductory Call