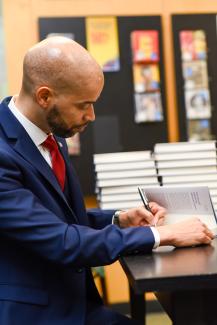 Q: I am financially successful. I run my business - now part-time - because I enjoy it and I support my adult daughter financially because I can. What I can't figure out how to do is communicate with her on a family level. I want her to understand more of where these dollars "came from" and how building my business reflects who I am. Our relationship otherwise seems transactional at best and argumentative at worst. I want to keep supporting her financially but I don't want to be the stereotypical "rich dad" who's relationship with his kid is based on money. No one I've talked to has an answer about what I should do. Your thoughts?  Signed, Rich Dad Poor Relationship
A.  Dear Rich Dad, your concern about your relationship with y our daughter while managing the relationship with money is common among successful parents. Have you ever heard of Family Governance? There are many definitions but the one I'll use here is: "A system for creating high-net-worth and high-self-worth for each member of your family, for generations." The family governance system or process facilitates communication because a 3rd party will interview you and your daughter separately. The questions will be the same and will center around your view of your past, present and future with money. A good interviewer will start the arc of the conversation with how you grew up with money and bend toward what you would like your legacy to become. In between, conversations around how hard or easy it was to save or earn money provide the color that brings the story to life. 
After those interviews are completed, the interviewer will pick through sentences to find "values" words and highlight what's important to each of you. This is usually done with a married couple but can work well with any close relationship. The final step is writing a "family constitution" that highlights the stories, the values and the agreed upon "rules of the road" for your financial lives. Having these documents "on paper" tends to reduce the financial friction and moves money to the background; prioritizing family relationships in the foreground. 
There are not many firms that perform this work but it is something we offer to wealth management clients of Jason Howell Company. 
To learn more about how we do "family governance," just book an introductory call here: Introductory Call
---
Just Ask Jason(SM) is taken from real questions I've been asked recently. Though I am licensed to provide advice for clients in Virginia and other states where registration is exempted. Just Ask Jason(SM) is for educational and informational purposes only. This is not advice. 
To ask a question, just email JasonATJasonHowell.com
To schedule an introductory call for advice, click:  Introductory Call