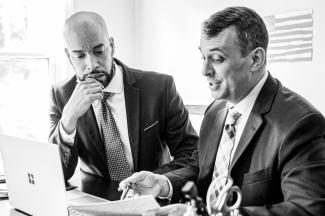 Letter to Stakeholders, December 2021
Monday, December 13, 10:12 am EST. End of year communications are almost only interesting if they are forward thinking. We aim to be interesting at Jason Howell Company so here are our thoughts on markets, economics, and our service to you in 2022. 
Markets
You cannot make a rational prediction about capital or housing markets without also discussing market indicators. Unfortunately, it is far too easy to write true or false economic narratives if you know a few fancy words. This is what used to happen at the car dealership when we were persuaded to buy add-ons like extended warranties or paint and fabric protection: we "bought" these stories until we learned not to (online). Dealerships lost the benefit of the "Asymmetric Information Theory" which suggests that one party – often the seller – has more information than the other (often the buyer). We are sold narratives by our car salesman, news sources, politicians and economists. Sometimes these narratives are true, sometimes they are misinformed and sometimes they are lies. Since we work for you, we do our best to be informed and have aligned our incentives to tell the truth.
There is one true narrative about the financial markets in 2022: they will be unpredictable. Since March of 2020, the Federal Reserve Bank and our federal government have added trillions of dollars into our capital markets and local institutions. With the recent history of the Great Recession as a backdrop, our institutions knew how to preserve economic markets. But the lessons of 2007 – 2009 did not teach us anything about pandemics, vaccines, variants, supply chain management, inflation or the Great Resignation. We would have to go back 100+ years to the 1918 Flu Pandemic to research how humans reacted economically to so many sick and dead, so fast. Global supply chains just weren't the same back then. The U.S. dollar was not the reserve currency of the planet. And if we "worked from home," it was on a farm.
With 12 letters after my name I could spin narratives about why I believe the price of lumber means that the housing markets will be tough next year; or why the strong dollar means America's debt – as an investment – is still safer than the debt of other countries and that's why rates are still low; or that supply chain issues will wane and cause a glut of inventory which will eliminate price inflation (or it won't and it will stay a while). But I won't spin those narratives into a prediction for one reason: the more I have learned is the more I have found there is to know. The United States economy is still the biggest, the most complex and most profound in the world. Thankfully, there is no one factor that will tilt it in a good or bad direction.
As our economy, capital, housing and employment markets ebb and flow, both Doug Tees – 6 letters and counting by the way – and I will be there to steady your portfolio and reinforce your plan; according to events that happen (not that talking heads predict).
Update on the Debt Ceiling
It's not going to be a problem. In previous letters we have explained the depth of importance that our government's self-imposed "debt ceiling" has on global economics. A bill to "lift" the debt ceiling will soon be sent to President Joe Biden's desk for signature, having passed both the U.S House and U.S Senate in bipartisan votes. As a country, we will pay for our spending. To understand why this constant "game of chicken" gets scarier every time it's played, consider that nuclear strategists believe that each side has to play more "rashly" to make it seem like they won't cave. It sounds a lot like all of our politics these days. For now, crisis averted.
Service in 2022
Most every year Doug and I take some time in January/February to host an "all-staff" retreat – for all two of us – to see how we can grow our firm and improve our service to you. Last year, we skipped it as we continued to reinforce the learnings from 2020.  
Next year, we plan to host our retreat and welcome ideas and comments from you for us to pour over. Email Doug@JasonHowell.com. 
For example, we plan to continue our minimum twice-per-year meetings with you but are planning to schedule those earlier (like your dentist but virtual, more informative and less discomfort). Also, Doug is going to help the firm lean into our philanthropy expertise with his commitment to prepare for the Chartered Advisor in Philanthropy (CAP) designation. I plan to increase our understanding of  structured notes, options trading and sustainability analysis.
We'll see what else comes up!  Email your ideas for us here: Doug@JasonHowell.com.
MERRY HOLIDAYS!
Jason J. Howell, CFP®, CPWA®, CSRIC®
President
Jason Howell Company (JHCo.) is an independent, family wealth management firm run by two owners who consider it their family business. Jason J. Howell, CFP®, CPWA®, CSRIC® and Douglas W. Tees, MBA, CFP® are both married to patient wives and are dedicated to their kids.
The firm owners believe that busy, dual income couples should feel good about the wealth their building for their families. "Feeling good" begins with turning family values, standards and rules around money into a family governance structure that creates harmony for everyone involved.  It continues with implementing a sustainable investment strategy (SRI, ESG) and a proactive strategy for philanthropy. The two owners strike the right balance between attention to detail and keeping these serious subjects "light."
Jason Howell Company: Feel Good About Your Money™
To feel good about your money, just book an introductory call here: Introductory Call