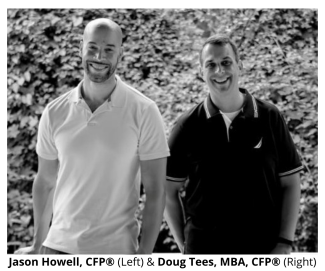 Letter to Stakeholders, February 2021
Wednesday, February 3, 2:14pm EST. The inauguration of the 46th President of the United States, Joseph R. Biden, Jr. was the biggest economic story of January. Neither CNBC news anchors, nor the general investing public, need to arise daily to market gyrations instigated by a Presidential Tweet.  Instead, we will have the transparent grind of daily press briefings, required corporate disclosures of climate risks and greenhouse gas emissions and hopefully other macro and micro steps towards "long-termism."
Short-Term vs. Long-Term
Of course the other big (and evolving) economic story of January 2021 is the growing sophistication of retail investors and short-termism. This month, stocks like GameStop and AMC have captured the imagination of retail investors who believed that if they banded together online, they could "game the system" and quickly make money.  Some were right; for the short term. Most were decidedly wrong for the long term. Yes, there are hedge funds and other institutional traders that play this kind of short-term-trading-game every day on Wall Street; but it doesn't make it right. Whataboutism – "They are doing it so why can't we?" – is another casualty of proper debate that should have been left to our respective childhoods. Is there game-playing in the stock market by the wealthy, connected and influential? Yes. Should we pile on to that characterization of financial distortion; this, by encouraging friends, family and relative strangers on social media to fight fire with fire? No. There has always been a philosophical war between long-term investors and short-term traders (stock flippers). For a scattershot (and entertaining) history of this war, spend some time reading author Michael Lewis' catalogue: from his early books, Liar's Poker and The Money Culture to his more recent books, The Big Short, and in particular Flash Boys. 
People who "flip" stocks for quick money, sometimes win but often lose. It is in that way that the financial markets resemble a casino. But those who invest for the long-term, with an academically based investment philosophy, have the best chance of succeeding. In that way, participating in the financial markets is more akin to building a career, a family and a good reputation. It takes years of perseverance, emotional wisdom and the understanding that sometimes you are the pigeon and sometimes the statue. But over the long journey of time, life and prudent investing alike, eventually work out. "As it is not one swallow or a fine day that makes a spring, so it is not one day or a short time that makes a man blessed and happy (Aristotle)." Or if you prefer the editorialized paraphrase, "We are what we repeatedly do. Excellence then is not an act, but a habit (Will Durant)."
You are invested for the long term. That is our philosophy and our responsibility. We take both the nature and the spirit of those techniques seriously through our ongoing education and commitment to professional and emotional excellence.
Community Development Finance Institutions
Through the rest of the year we will highlight your philanthropy (here) whether through time, talent or treasure. This month, I'll highlight the work of my friend, Andrea Longton, CFA®
Andrea uses her professional finance skills to empower local underserved communities all over the United States. She works for the Opportunity Finance Network (OFN) which is the national association for community development finance institutions (CDFIs). What are CDFIs? They are typically private financial institutions that fill the financing gaps in communities across the country. They provide financing for employment, education, housing and healthcare. There are more than 1,100 across the country located in all 50 states. From Appalachia to Detroit.
CDFI Bond Guarantee Program
Andrea's work as Senior Vice President at OFN provides loan guarantees for long-term, low-cost capital to distressed communities. The CDFI Bond Guarantee is not about philanthropy but rather access to capital. Bond proceeds are repaid. For more about Andrea's work, click here.
Sharing Financial "Tips"
Here are the financial tips you can share with friends and family for this month:
Gather your W-2s in preparation for tax season

If you have a CPA, s/he sent you a tax planner. Be kind and fill it out.

Have you made your annual "giving pledge" to your favorite organization? Do it now.

Have you made your annual "savings pledge" to yourself? Do it now.
The early part of the year goes quickly. Always. And February, Black History Month, is the shortest month of the year.  For those of you who would like to learn a little more about black history in 10, 25, or 45 minute chunks, click here.
Cheers,
Jason J. Howell, CFP®, CSRIC®
President
Jason Howell Company is an independent, family wealth management firm run by two owners who consider it their family business. Jason J. Howell, CFP®, CSRIC® and Douglas W. Tees, MBA, CFP® are both married to patient wives and are dedicated to their kids.
The firm owners believe that serving families through a process that supports family harmony, preserves family history and nurtures family values is the key to true wealth. It begins with a sustainable Investment Strategy and by equipping clients with three (3) tools for creating sustainable wealth. They call this process Family Governance. It goes beyond traditional financial planning by adding the "values management" and family history component. The firm stands for empowering communities, one family at a time.
For more information about our strategies, just book an introductory call: Introductory Call