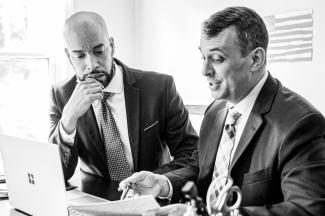 Letter to Stakeholders, January 2022
Read or Listen (below):
Tuesday, January 11, 10:01 am EST. It feels good to get past January 6th. And for those of us on the East Coast, it is nice to be past the first snowstorm of the year. Now that the year has really "started," we can share with you some of our plans for the next few months.
January
The first month of the year is a time that gets me motivated. Doug and I decided to resume our "all staff" retreats so the two of us will get together to discuss how we can serve you in a kinder, gentler way. Well, actually you can't get much kinder than Doug, but I'll at least try to be better. Another thing that Doug does really well – besides being kind – is evaluate work benefits. We shared his experience with Freddie Mac here. Expect more of those corporate benefit evaluations – that you can share – in the coming weeks (and months).
Last month I promised to take a deeper dive in some advanced investment strategies like structured notes and options. That work and study has begun in earnest over the holidays and continues with conversations I have had scheduled with First Trust last month, iCapital last week and Halo Investing later today. As a firm we have historically been professionally skeptical of these strategies but considering the economic cycle, we are keeping an open mind. Rest assured that long before any new tool is applied to your investment portfolios we will talk. As we have always promised, we will keep learning and partnering with experts, so you get the best of what's available for your family.
We are also going to continue our Zoominars this month and monthly going forward. See our Stakeholder Spotlight for next week's discussion.
March and April
 I know what you're thinking: what happened to February? What always happens with February: cold and snow. We'll probably take down the Christmas tree at the Howell residence and maybe even send out holiday cards. It all depends. We recommend you just get your taxes done as the IRS has stated there will be no delay to the April 18th deadline. If you need an introduction to a tax preparer (i.e. CPA or tax attorney) let us know.

But for March and April we expect to meet with you. For the first time we are planning your "Spring Check-In" meeting months in advance. You can contact us throughout the year anytime, but the Spring (and Fall) check-ins are scheduled so you know when you're meeting us next. Just grab a date between March and April here.
Stakeholder Spotlight
Next week we will host a conversation with Kate Williams, CEO of One Percent for the Planet and Steve Gruber, Director of Operations at Bluestone Life. The mission of One Percent' is to "bring dollars and doers together to accelerate smart environmental giving." They encourage organizations and individuals to commit to giving one percent of their income to sustainable causes. Bluestone Life is an insurance company that does just that. Kate will talk about the mission and Steve will talk about how his firm implements that mission; along with 3,000 organizations who have given $250 million+ so far (since 2002).
Join us LIVE for the Q &A discussion here.
Final Thoughts
Seriously, work on getting your taxes done early this year. The IRS expects delays in their processing because of a lack of funding. Finally, set goals for the year. Why not? Create milestones that you can celebrate with others or if this pandemic continues to rage, all by yourself.  Because life is worth celebrating.
Here's to 2022!
Jason J. Howell, CFP®, CPWA®, CSRIC®
President
Jason Howell Company (JHCo.) is an independent, family wealth management firm run by two owners who consider it their family business. Jason J. Howell, CFP®, CPWA®, CSRIC® and Douglas W. Tees, MBA, CFP® are both married to patient wives and are dedicated to their kids.
The firm owners believe that busy, dual income couples should feel good about the wealth their building for their families. "Feeling good" begins with turning family values, standards and rules around money into a family governance structure that creates harmony for everyone involved.  It continues with implementing a sustainable investment strategy (SRI, ESG) and a proactive strategy for philanthropy. The two owners strike the right balance between attention to detail and keeping these serious subjects "light."
Jason Howell Company: Feel Good About Your Money™
To feel good about your money, just book an introductory call here: Introductory Call