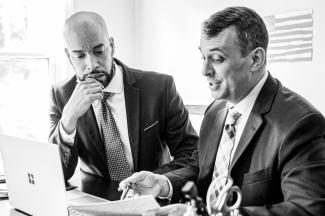 Letter to Stakeholders, January 2023
Read this post or LISTEN here:
Wednesday, January 11th, 1:34 pm EST. It is with great pleasure that we bid adieu to 2022. You not only endured the worst stock market decline since 2008, you also persevered through the worst US bond decline. Ever. What a year.
Do we think 2023 will be different? Yes. And no. We will be one more year removed from the "unprecedented" 2020. Inflation will trend downwards but layoffs that began in 2022 will continue (especially in the tech industry). The Federal Reserve will not have to raise interest rates as fast as they did in 2022 but will likely leave them historically higher than they have been for the past 15 years.  And then there are the events that we can't predict. Russian's invasion of Ukraine and China's on-again/off-again "zero-COVID" policy reminds us that we are all connected to an unpredictable, global economy. Regardless of what happens, you have a financial plan and financial planners that will help you to adjust (as necessary). If you are concerned, just call me (you have my number). And if you are confident, please do the same.
Risk and Reward
Investors always balance the amount of risk they must take with the return they expect on their investments.  As your investment advisers, Doug and I first calibrate the financial needs determined by your financial plan and then allocate your investments on a risk/reward spectrum accordingly. Last year's increasing interest rates created unrealized losses to the price of your investments. They also created an opportunity.
Late in 2022 we began reducing your risk of loss without greatly reducing your potential for return. With so much economic uncertainty you will still see swings in your balances; but this positions your investments for eventual recovery in 2023 or thereafter.
Stakeholder Spotlight
This month we are featuring a good friend to our firm, Lisa McFarland of LCM Connect. Lisa has spent time in the legal, financial and healthcare industries but has given that all up to share her story of personal grief.
She inspires others to heal while on her own healing journey. In her blog "Rooted in Connection"  - which began in January of 2021 – she started sharing her personal observations of grief and daily life.
Lisa is the mother of an adult son with special needs, an unborn child whose life ended in miscarriage and another beautiful child who died after just 13 months of life. She is also a writer, an upcoming author, a podcaster, a coach and a community builder. Whether you are beginning the year fully inspired or entirely "empty," Lisa is someone with whom to make a connection. Click the links for her Healing Path podcast or her Rooted in Connection blog to feel more.
Looking Forward
Every year is exciting. Every month that Doug and I get to partner with your family is an honor. January is a great time to reassess, review and revise your plans. When we can help, just let us know.
We expect market volatility this year, we plan for achieving your long-term goals and we hope for peace and economic prosperity in this country and around the world.
Here's to 2023!
Jason J. Howell, CFP®, CPWA®, CSRIC®
President
---
Jason Howell Company is an independent, family wealth management firm run by two owners who believe you should feel good about money.
Jason J. Howell, CFP®, CPWA®, CSRIC® and Douglas W. Tees, MBA, CFP®  are each married to patient wives and are dedicated to their kids. Jason and Doug have built a firm with a great reputation. The firm is based in Northern Virginia but serves clients (virtually) all throughout the United States.  
Our clients are "first generation wealth" who suffer from a little "imposter syndrome." They've earned their way but have succeeded into a financial level that goes beyond how they grew up. They want their money to be meaningful and are concerned about how their wealth affects their relationships (especially their kids). 
We facilitate feeling "good about your money" in three ways:
Family Governance: We walk the principles through a process that gets them talking about what it was like to grow up with money, how they pay bills and save today and what they want their family legacy to sound like. This turns into a "Family constitution."
Sustainable Investing: We match the values derived from the "Family Constitution" to a sustainable investing strategy that incorporates an adaptive efficient market theory with environmental, social and governance factors
Proactive Philanthropy: Many of our clients will have a little extra, even after they achieve their family's personal goals. We show them how much they can afford to be giving while living to the people and causes they care about
To feel good about your money, just book an introductory call here: Introductory Call