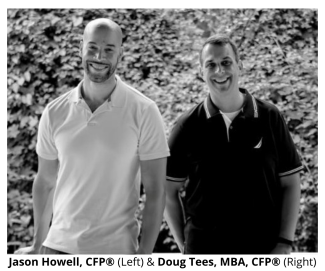 Letter to Stakeholders, March 2021
Monday, March 8, 4:24pm EST. Normally discussing the last month of financial activity is what's needed to summarize "what's been going on." More telling this time around is what's been happening over just the last couple of weeks; or last few days. In a word, "rates." In four words, "rates and inflation fears."
Short-Term Inflation and the Economy
Normally when people talk about "the markets" they are talking about the stock markets. These past couple of weeks however have put the bond markets on center stage. For those of our clients who have small positions in individual technology stocks, you may have noticed a recent decline. This has stemmed from the narrative that the recently passed $1,9 trillion coronavirus relief package, coupled with the overall economy "opening up," is too much of a good thing for our economy and it will overheat. This narrative points to quickly rising interest rates in the bond market as proof of this theory. But like all economics, this too is only a theory.
Short-term inflation is undeniably a stimulant to the economy, but economists typically point to the likelihood of long-term inflation as something to fear. Long-term inflation occurs when the price of goods and salaries go way up and most importantly, unemployment goes way down. The unemployment picture is improving but it's not way down; and salaries have not increased measurably since the 1970s.  Those were the same 1970s when the inflation, as measured by the Consumer Price Index (CPI) was in double digits. We no longer measure inflation by the CPI so pointing to increases in the price of cars or airline tickets – which have gone up – is misleading. With the constant rise of efficiency through technology, we are much more vulnerable to deflation or decreasing prices and wages. We have seen the depressed wages already for many mid and lower income workers. The simple laws of supply and demand however have been most responsible for the recent increase in our prices. For example, the shortage of semi-conductors are affecting the production of all major car manufacturers. Our economy is doing what it should -adjusting. Our current inflation rate, as measured by Personal Consumption Expenditures (PCE), stands at 1.4%. That rate hasn't consistently risen above 3%, since the PCE measure began use in 2000-2001 (yes, that's 20 years). Long-term investors with a financial plan have nothing to fear but fear itself.
Stakeholder Spotlight
We are excited to highlight one of our clients who exemplifies the ideals behind shareholder theory or what the World Economic Forum called stakeholder capitalism. In short, if we have to work to create income, we may as well do it at a place with a bigger mission than money.
For the past 2 and a half years Libi Baehr-Breen has been the Development Director at Theatre Latte Da (TLD) in Minneapolis, MN. Their mission is to create new and impactful connections between story, music, artist, and audience by exploring the art of musical theatre. With re-imagined staging of musicals with a long history in the canon, and world premieres of bold new work, TLD creates musical theater that educates, provokes, and resonates with a contemporary audience. In talking with her, I specifically was impressed that the art provided work for artists. Art animates our emotions and reminds us that we're vulnerable, aspirational and mortal. Great organization, great work.
On March 22nd, Mrs. Baehr-Breen is going to take her talents to Dayenu: an organization that is building a movement of American Jews confronting the climate crisis with spiritual audacity and bold political action. How incredibly exciting!
Sharing Financial "Tips"
Here are the financial tips you can share with friends and family for this month:
Thank you for being a part of our "stakeholder mission." The work we do for your families helps to spread your good values for generations. Working for you is an honor.
Cheers,
Jason J. Howell, CFP®, CSRIC®
President
Jason Howell Company (JHCo.) is an independent, family wealth management firm run by two owners who consider it their family business. Jason J. Howell, CFP®, CSRIC® and Douglas W. Tees, MBA, CFP® are both married to patient wives and are dedicated to their kids.
The firm owners believe that serving families through a process that supports family harmony, preserves family history and nurtures family values is the key to true wealth. It begins with a sustainable Investment Strategy and continues by equipping client families with three (3) tools for creating sustainable wealth. Most JHCo. clients invest their time, talent and treasure in the community. Jason Howell Company enjoys serving clients who go beyond being stockholders to true "stakeholders." JHCo. calls this work total family governance and it's their specialty. Doug and Jason empower communities, one family at a time.
For more information about our strategies, just book an introductory call: Introductory Call