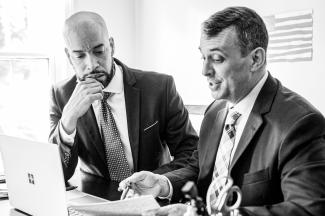 Letter to Stakeholders, March 2023
Read of listen here: 
Tuesday, March 7th, 9:42 am EST. Just as hope began to rise in the hearts of investors – and their statements – February showed up to crash the economic party. Why the constant volatility [up and down]? Blame A.I..
Artificial Intelligence (A.I), Trading and Investing
 It's no secret to professional investors that the majority of market trading today is by robots aka algorithms. The New York Stock Exchange's "pit" used to be where most of the professional trading happened, but no more. Though rumors, economic indicators, world news and political commentary were – and still are – the fuel that drives active stock trading, A.I. tech has made it a lot faster. There's only one economic indicator that seems to matter these days: the interest rate of the 10-year Treasury Bond. A 4% coupon (interest) rate seems to be an A.I. trigger to sell stock. With an estimated 70% of all trading coming from algorithms, it's no wonder we see wild swings. Doug and I are investing, not actively "trading" on your behalf. So thankfully, you don't need us to beat the "high=frequency-traders (HFT)" to implement your plan. But if you check-in on your statement monthly – or more often! – HFT is what's driving the ups and downs.
Income vs. Growth Notes
Last month's letter introduced you to "structured notes" but I promised to explain more this month. There are two types of structured notes: income and growth. As you would expect, "income" notes focus on receiving income, (like a bond) and growth focuses on gains (like stocks). Because you can invest in a structured note in one of these two ways, they are often referred to as "hybrid securities." Ultimately, the most important question to answer is "How do these fit in my portfolio?" Doug and I have given this a lot of thought; so have structured note partners like Halo Investing.  Today we see opportunity to replace a portion of the equity (stock) portion of your portfolio with structured note offerings. How much will depend on your current equity allocation, your income needs, your comfort with this strategy and other individual factors.  This is a conversation we will continue to share with you in the coming weeks and months. If you haven't already, book a time for our Spring Check-In 2023 here.
Would it Help?
Would it help if we shared a weekly newsletter with you? Doug and I are voracious learners. It's how we keep up with what's hot and what's not for your portfolio and financial plan. Occasionally we're also featured in the press or an event. Whether its sustainable investing, alternative investments, social security updates, economic policy or philanthropy we'd like to have a vehicle to share what we're seeing or doing with you.
Would you benefit from a Friday newsletter on the topics we're reading?
As we grow our practice, another investment we're considering is a tool that would help us offer companies business valuation services. This could help – especially small business owners – assess their capability for loans, adding partners or retiring through a sale. As small business owners ourselves, focused on first generation wealth, we realize that it's not always 30 years of salary savings that gets people to retirement.
Would your social network find value from business valuation services?
What else? What are you hearing, seeing or wondering about other advisers and the services they offer their clients? Could we do more for you? Are their friends of yours who may or may not be client prospects but whose questions we could answer? As many of you know both Doug and I love to talk about this financial stuff. I even teach it!
If we can be a resource to a friend, family member or a firm (employer?), let us know.
Jason J. Howell, CFP®, CPWA®, CSRIC®
President
---
Jason Howell Company is an independent, family wealth management firm run by two owners who believe you should feel good about money.
Jason J. Howell, CFP®, CPWA®, CSRIC® and Douglas W. Tees, MBA, CFP®  are each married to patient wives and are dedicated to their kids. Jason and Doug have built a firm with a great reputation. The firm is based in Northern Virginia but serves clients (virtually) all throughout the United States.  
Our typical "first generation" client households include dual income parents who work, save and have just the right amount of fun. They trend a little older - Gen-Xers (born 1965 - 1980) and Boomers (born 1946 - 1964) - but we're starting to see more Millennials (born 1981 to 1996) who don't want to wait until it's too late. They earn impressive incomes and have accumulated (or are accumulating) a good bit of savings. As experts themselves, they expect expertise from people they hire.  
First generation clients feel more confident about their decisions because:
Implementing a professional investment strategy relieves the stress of managing $1 Million+ 
Discussing money with professionals improves family communication about  family values and lifestyle
Identifying time and money for causes they believe in make them feel like whole persons
Working directly with independent business owners rather than "big box" bank employees just feels right
Redefining the meaning of affluence in the 2020s (and beyond) is important to their legacy
To contact us for a free initial conversation, click here.