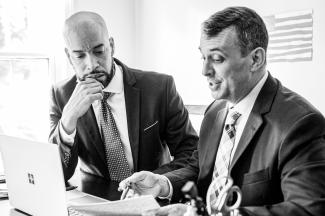 Letter to Stakeholders, September 2022
Read of Listen below:
 
Friday, September 9th, 1:36 pm EST. Back and forth go the public stock and bond markets. This week's valuations are higher but overall the market has been stuck in range since Summer began. If you're following, June's low was fully reversed in July. August started off well, then crashed during the 2nd half of the month. Today we're about a little more than halfway over June's low. But you're OK. We captured much of the July/August highs by rebalancing your portfolio keeping our eyes on your long-term growth.
Strong U.S. Dollar
The value of the U.S. dollar is at a 20 year high and will keep climbing as our central bank (the "Fed") raises the federal funds rate. Our biggest trading partners like Canada and the European Union are also raising rates to fight global inflation
Last month I mentioned that people who analyze the direction of the stock market seek out so-called "economic indicators." They pay special attention to corporate earnings expectations. Well a  "strong dollar" predictably hurts the earnings of multinational companies because it reduces the purchasing power of foreign consumers. This indicator along with others – like the reduction of "money supply" – helps to explain recent short-term predictions of recession.
September
Like January, September often feels like the start of something new. That exciting feeling has unfortunately, not typically translated to positive stock market returns. Could it be different this year? This is the recurring question for the unprecedented, still pandemic-driven economy. China is once again in "lockdown" mode, and much of Europe is in crisis mode (though Russia has much to do with that). In the United States, for over 10 years the Federal Reserve (the Fed) has provided a loose monetary policy – "quantitative easing" – which helped to grow our economy. In September, the Fed will continue to tighten monetary policy which will slow the economy. This action is to help fight inflation. Unfortunately it could also continue lowering stock (and bond) market returns simultaneously. But remember, this is all commentary for the short-term. September may surprise the analysts, economists and pundits. As the stock market has been all week, it may finish "up" this month. After all, gas prices are dropping, housing prices are dropping, and both are key components of the inflation indicators we're all so worried about.
If we have another "July" here in September, we will adjust your portfolios, capturing the benefits of the "bounce" and reinforcing your plan, as always. As we promised.
Stakeholder Spotlight
Queen Elizabeth II has died. Almost nothing else need be said about a person who seems to have "always been alive" for as long as you can remember. I'm only 48 years old but you'd have to be over 80 years old to remember a time when Elizabeth Alexandra Mary Windsor was not queen.
Tradition and institution have been losing reverence and respect for a few decades now. We are at a time in world history where not even facts carry the same nobility as they once did. To hear both politicians and her mere "subjects" speak of her, is to listen to people who sound much like friends do when they've lost a parent; in this case a guardian.
While nearly none of us know a world without this queen, we can recognize how impactful the era of British royalty, especially with its faults, has impacted and influenced our United States of America. We needn't look much further than the Broadway production of Hamilton – now available at the Kennedy Center – or that "My Country Tis of Thee" is set to the tune of "God Save the Queen."
The Atlantic magazine headline writers called Queen Elizabeth II The Queen of the World. As the publication does regularly, they attempted to explain both the controversy and the majesty of their protagonist. There will be many others who attempt to do the same. I'll leave you to search through those articles, future documentaries and shared history of a bygone era embodied in one human being.
Have a meaningful month,
Jason J. Howell, CFP®, CPWA®, CSRIC®
President
---
Jason Howell Company is an independent, family wealth management firm run by two owners who believe you should feel good about money.
Jason J. Howell, CFP®, CPWA®, CSRIC® and Douglas W. Tees, MBA, CFP®  are each married to patient wives and are dedicated to their kids. Jason and Doug have built a firm with a great reputation. The firm is based in Northern Virginia but serves clients (virtually) all throughout the United States.  
Our clients are "first generation wealth" and can feel guilty about how much they make and how much they spend compared to how they grew up. They are also concerned about how their wealth affects their sibling relationships and their kids.
We facilitate feeling "good about your money" in three ways:
Family Governance: We walk the principles through a process that gets them talking about what it was like to grow up with money, how they pay bills and save today and what they want their family legacy to sound like. This turns into a "Family constitution."
Sustainable Investing: We match the values derived from the "Family Constitution" to a sustainable investing strategy that incorporates an adaptive efficient market theory with environmental, social and governance factors
Proactive Philanthropy: Many of our clients will have a little extra, even after they achieve their family's personal goals. We show them how much they can afford to be giving while living to the people and causes they care about
To feel good about your money, just book an introductory call here: Introductory Call