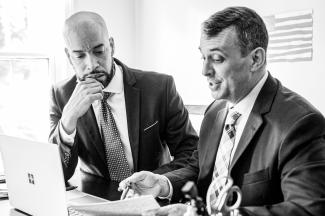 Letter to Stakeholders, September 2023
Friday, September 8th, 2:34 pm EST.  It's all happening now. The TD/Schwab transition has finally happened. Those who were predicting negative returns finally got it right in August (slightly). And we are now prepared to add the benefits of structured notes to your portfolios. Welcome to September.
TD is now Schwab
If you haven't yet, create your login here: http://SchwabAlliance.com. By many accounts the TD Ameritrade to Schwab has gone well. Independent investment advisors like Jason Howell Company are not owned, affiliated or supervised by Schwab but our ability to efficiently leverage their platform translates to good service to you. So far so good. If you have questions about your accounts, ever, just ask me (571-595-3988).
Structured Notes Allocation
For over two years Doug and I have been evaluating the use of structured notes for managing some of the risk/reward trade off inherent in your portfolio. As "allocators" of your investments, we balance the risk taken in your portfolio with the returns needed to achieve the goals in your financial plan. We diversify your portfolio along the large, small, domestic, international, equity and debt spectrum. This month we're enhancing many of your allocations with structured notes to generate income and growth that's different from typical stocks and bonds.
How much?
Since most of you are fully invested, an important question we had to answer was how much to allocate to structured notes and from where should we take that percentage We settled on a 20% allocation to these hybrid instruments taking 10% from the large company ETF in your portfolio and 10% from debt as your treasury bonds mature in 2024. An important note here is we're not investing even your 20% allocation all at once. We will work our way up to that 20% allocation over time so you have a chance to see how structured notes work. Not every client will participate in this allocation but many will. Expect a separate email and additional outreach to answer questions.
Oliver Anthony
If you haven't heard the song Rich Men North of Richmond then you've missed out on the latest viral, cultural phenomenon, Mr. Oliver Anthony. Mr. Anthony's music has bipartisan outrage for our politicians and unlimited empathy for those who suffer from mental illness, addiction, human trafficking and economic disparities (around the world). His out of nowhere, chart-topping success highlights how human struggle isn't limited to race, gender or even geographic location. Right-wing politicians have claimed him as one of their own but to their chagrin, he has disclaimed them. NPR published an article that calls some of his intention into question. For my part, I'll presume Mr. Anthony wants for a "kinder, gentler" world with people who care about all people. As a former band manager who tried to get bands "signed" I can appreciate at least that he turned down an alleged $8 million record deal to stay independent. Good for him.
Like you, as a successful firm we stay conscious of those in need. We give 1% of our firm's revenue to Northern Virginia Food Rescue and thousands more dollars to my alma mater George Mason University. We also donate hundreds of hours to GMU and to Doug's passion for the differently abled at Langley Residential Support Services. Your fees feed not only our families but also good causes.
Again, if you need help with anything regarding the TD/Schwab transition, just call.
Jason J. Howell, CFP®, CPWA®, CSRIC®
President
---
Jason Howell Company is an independent, family wealth management firm that offers accredited investors the confidence to overcome financial imposter syndrome.
Jason J. Howell, CFP®, CPWA®, CSRIC® and Douglas W. Tees, MBA, CFP® CAP®, CBDA  have spent a lot of time in the Washington, DC area, and are aware that many people who are first generation wealth suffer from a kind of "financial imposter syndrome."  Successful entrepreneurs are always looking over their shoulder; government contractors worry about the next contract; former Capitol Hill staffers privately wonder if they should "feel bad" for the money they now make. Imposter syndrome is common among people who work for the many corporate headquarters based in this area as well. These feelings get in the way of properly managing wealth. We empower them to get organized, build a team of advisors and make decisions.
Our typical "first generation wealth" families include dual income parents who work, save and have just the right amount of fun. They trend a little older - Baby Boomers (born 1946 - 1964) and Gen-Xers (born 1965 - 1980) - but we're starting to see more Millennials (born 1981 to 1996) who don't want to wait until it's too late. They earn impressive incomes and have accumulated a good bit of savings. As bona fide experts themselves, they expect fiduciary expertise from people they hire. They are just not sure about the "big box" brokerage firms that advertise one thing and seem to do another. 
First generation wealth accumulators realize that they:
Need to "do something" with the cash in their checking/savings
Need an investment strategy for "up" and "down" markets
Need a plan to mitigate market, credit, inflation, and political risks
Need to start tax planning instead of just tax paying
Need to be sure they are choosing the right work benefits
Need to reduce financial miscommunications between partners
Need to separate business finances from personal finances
Need to plan for money while alive and for what happens after death
To start feeling empowered, contact us for a free initial conversation, click here.