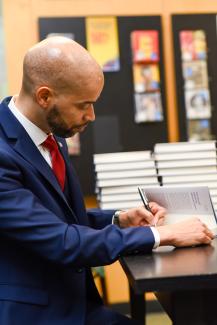 Quoted in Insider.com: "Financial planners say 3 tricks always help their clients get out of debt fast"
"When our clients have debt, the best methodology we share with them is an attention to detail. All of our clients want to pay off their debt. We help them see the opportunities within their portfolio to reduce their debt consistently and/or all at once," Jason Howell, financial planner at Jason Howell Company, tells Insider. 

Howell encourages his clients to focus on eliminating consumer debt, then getting back to building savings. Sometimes that means making a decision between whether they should change their 401(k) contributions or take a pause on funding their 529 plan to pay off certain debt. Howell considers this a way to optimize cash flow. 

- Jason J. Howell, CFP®, CPWA®, CSRIC®
In the article, financial planners discuss how to:
1. Figure out what got you there in the first place
2. Write down all your debts in one place
3. Take an overall look at your financial picture and re-prioritize if needed
See more from a link to the Insider.com article here.
Jason Howell Company (JHCo.) is an independent, family wealth management firm run by two owners who consider it their family business. Jason J. Howell, CFP®, CPWA®, CSRIC® and Douglas W. Tees, MBA, CFP® are both married to patient wives and are dedicated to their kids.
The firm owners believe that serving families through a process that supports family harmony, preserves family history and nurtures family values is the key to true wealth. It begins with a sustainable Investment Strategy and continues by equipping client families with three (3) tools for creating sustainable wealth. Most JHCo. clients invest their time, talent and treasure in the community. Jason Howell Company enjoys serving clients who go beyond being stockholders to becoming true "stakeholders." JHCo. calls this work total family governance and it's their specialty. Doug and Jason empower communities, one family at a time.
For more information about our strategies, just book an introductory call: Introductory Call