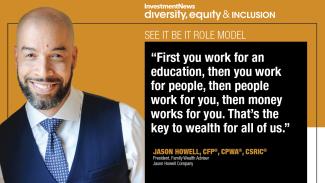 On August 9th, InvestmentNews Magazine, a financial industry trade magazine announced the results of their annual diversity, equity and inclusion awards. The See it, Be it Role Models are individuals in the business who exemplify success and can inspire others from diverse backgrounds to embrace the profession. A familiar name came up this year. 
If being a Black financial adviser isn't unusual enough, Jason Howell believes he may be the only one holding a specific trio of certifications — as a financial planner, private wealth adviser and socially responsible investment counselor. What's more, his eponymous registered investment advisory firm in Vienna, Virginia, is one of the relatively few in the nation owned by a person of color. Ironically, however, Howell says he never paid much attention to whether he was the only person in the room who looked like him. READ MORE..
Jason Howell Company (JHCo.) is an independent, family wealth management firm run by two owners who consider it their family business. Jason J. Howell, CFP®, CPWA®, CSRIC® and Douglas W. Tees, MBA, CFP® are both married to patient wives and are dedicated to their kids.
The firm owners believe that serving families through a process that supports family harmony, preserves family history and nurtures family values is the key to true wealth. It begins with a sustainable Investment Strategy and continues by equipping client families with three (3) tools for creating sustainable wealth. Most JHCo. clients invest their time, talent and treasure in the community. Jason Howell Company enjoys serving clients who go beyond being stockholders to becoming true "stakeholders." JHCo. calls this work total family governance and it's their specialty. We're also pretty good at executive compensation (stock options and grants). 
Your Family. Your Values. Your Money.