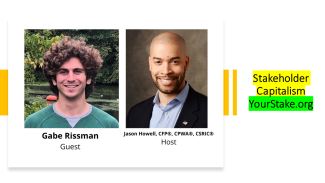 Stakeholder Capitalism with YourStake.org
"There's so much potential to shape the world and create change in the way that you want to see it, through your portfolios. The potential exists. It starts with education. It starts with building an understanding of what's actually happening and going on. There is so much opportunity to create change and have real impact; and not just a pat on the back."

- Gabe Rissman
Somehow Gabe Rissman, co-founder of YourStake.org was able to tie "computational astrophysics" and dark matter to stakeholder capitalism. I say that because you'll want to watch that portion of the video a couple of times before you'll exactly understand how he does it! Gabe has inspired many during his young life, including the late, great David Swenson, the man known for revolutionizing endowment investing through Gabe's alma mater, Yale University. During his undergraduate studies, Gabe met Mr. Swenson and helped to convince their legendary investment office to begin fossil-fuel free investing with their historical endowment. For that and more, including why Prospect Park should be on your bucket list, check out the episode below.
Gabe answers the following questions:
What is Stakeholder Capitalism? 
How can investors/consumers measure Stakeholder Capitalism? 
How does YourStake.org contribute to Stakeholder Capitalism? 
What sets YourStake.org apart from other SRI/ESG/Impact platforms? 
Where do you see Stakeholder Capitalism going in the future? 
Jason Howell Company (JHCo.) is an independent, family wealth management firm run by two owners who consider it their family business. Jason J. Howell, CFP®, CPWA®, CSRIC® and Douglas W. Tees, MBA, CFP® are both married to patient wives and are dedicated to their kids.
The firm owners believe that serving families through a process that supports family harmony, preserves family history and nurtures family values is the key to true wealth. It begins with a sustainable Investment Strategy and continues by equipping client families with three (3) tools for creating sustainable wealth. Most JHCo. clients invest their time, talent and treasure in the community. Jason Howell Company enjoys serving clients who go beyond being stockholders to becoming true "stakeholders." JHCo. calls this work total family governance and it's their specialty. Doug and Jason empower communities, one family at a time.
For more information about our strategies, just book an introductory call: Introductory Call