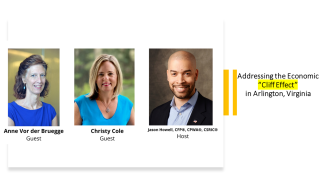 (VIDEO) Addressing the Economic "Cliff Effect" in Arlington, VA
"Learn about the other people living in their community. Having an orientation to considering your own financial growth.."  and financial capability and financial literacy; and how you can help provide those skills to others in the community."  

- Christy Cole
There are hundreds of community foundations all over the country and a handful right here in Northern Virginia. Anne Vor der Bruegge and Christy Cole of the Arlington Community Foundation share their experience with the economic cliff effect (click to watch video explainer) and how unconditional cash programs can fill the gaps between growing income and reduced government benefits. 
Anne and and Christy answer the following questions:
What financial challenges do you see in successful counties in like Arlington? 
What is the "cliff effect?" 
Why is "unconditional cash" the answer? 
How can professional advisers be part of the solution? 
How can citizens do more (besides just donating)? 
Additional Resources: 
  <
Jason Howell Company (JHCo.) is an independent, family wealth management firm run by two owners who consider it their family business. Jason J. Howell, CFP®, CPWA®, CSRIC® and Douglas W. Tees, MBA, CFP® are both married to patient wives and are dedicated to their kids.
The firm owners believe that serving families through a process that supports family harmony, preserves family history and nurtures family values is the key to true wealth. It begins with a sustainable Investment Strategy and continues by equipping client families with three (3) tools for creating sustainable wealth. Most JHCo. clients invest their time, talent and treasure in the community. Jason Howell Company enjoys serving clients who go beyond being stockholders to becoming true "stakeholders." JHCo. calls this work total family governance and it's their specialty. Doug and Jason empower communities, one family at a time.
For more information about our strategies, just book an introductory call: Introductory Call