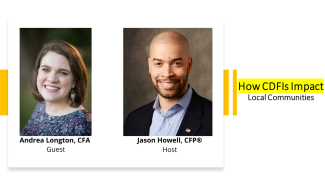 (VIDEO) CDFIs Save the World
"I'm on a mission to wrench open the floodgates of private capital and release the pent-up resources to flow to people and places that are typically overlooked and underestimated by traditional investors."

- Andrea Longton,
CFA Community Development Finance Institutions (CDFIs) are America's best keep secret. From Appalachia to California to Detroit and beyond, CDFI's are making a financial difference. Join Andrea Longton, CFA of the Opportunity Finance Network (OFN.org) and The Social Justice Investor (TheSocialJusticeInvestor.com) as we discuss: how CDFIs are funded, how many CDFIs there are, how to fill gaps in housing, jobs and healthcare!
Andrea answers the following questions:
What are "Community Development Finance Institutions?"

What is the Opportunity Finance Network?

How are CDFIs funded? How many are there?

How do the results of CDFIs differ from "Opportunity Zones"

What is "Finance Justice"

How do we grow the mission of CDFIs?
Jason Howell Company is an independent, family wealth management firm run by two owners who consider it their family business. Jason J. Howell, CFP®, CSRIC® and Douglas W. Tees, MBA, CFP® are both married to patient wives and are dedicated to their kids.
The firm owners believe that serving families through a process that supports family harmony, preserves family history and nurtures family values is the key to true wealth. It begins with a sustainable Investment Strategy and by equipping clients with three (3) tools for creating sustainable wealth. They call this process Family Governance. It goes beyond traditional financial planning by adding the "values management" and family history component. The firm stands for empowering communities, one family at a time.
For more information about our strategies, just book an introductory call: Introductory Call