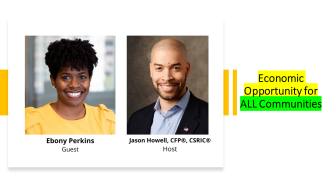 (VIDEO) Economic Opportunity for ALL Communities
"What's most important to you. If you're interested in trying to use it for good; consider placing your funds with a CDFI. See how your money makes a difference. It could be very powerful." 

- Ebony Perkins
Community Development Finance Institutions (CDFIs) fund support systems where and when government, business and other nonprofits are missing underserved communities. Ebony Perkins of the Self-Help Credit Union (Self-Help.org) led an important conversation on the unique services of Self-Help Credit Union.
Ebony answers the following questions:
What's unique about CDFIs like Self-Help Credit Union?
Can you describe "Predatory Finance"
How do you your work as a part of "impact investing?" 
How can individuals and business get involved? 
What's the potential for CDFIs as institutions? 
Jason Howell Company (JHCo.) is an independent, family wealth management firm run by two owners who consider it their family business. Jason J. Howell, CFP®, CPWA®, CSRIC® and Douglas W. Tees, MBA, CFP® are both married to patient wives and are dedicated to their kids.
The firm owners believe that serving families through a process that supports family harmony, preserves family history and nurtures family values is the key to true wealth. It begins with a sustainable Investment Strategy and continues by equipping client families with three (3) tools for creating sustainable wealth. Most JHCo. clients invest their time, talent and treasure in the community. Jason Howell Company enjoys serving clients who go beyond being stockholders to becoming true "stakeholders." JHCo. calls this work total family governance and it's their specialty. Doug and Jason empower communities, one family at a time.
For more information about our strategies, just book an introductory call: Introductory Call