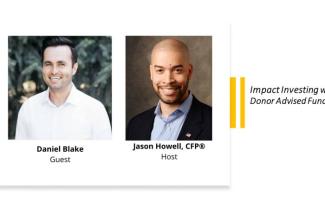 (VIDEO) Impact Investing with Donor Advised Funds
The COVID-19 pandemic, social unrest and political distress of 2020 has many of us questioning how to make a greater social impact with our money. Join Daniel Blake of University Impact (UITripleDAF.org) as we discuss: The role of early-stage impact investing; how donor advised funds solve social problems; how blending impact investing with philanthropy changes the game!
Sponsored by: Jason Howell Company* (JasonHowell.com)
Daniel Blake answers these questions:
- What is "early-stage" Impact Investing?
- What are Donor Advised Funds?
- How is University Impact different?
- Where are you seeing the greatest impact?
- When is a good time to begin using a Donor Advised Fund?
*Jason Howell Company is an independent, family wealth management firm run by two owners who consider it their family business. 
Jason J. Howell, CFP® and Douglas W. Tees, MBA, CFP® are both married to patient wives and are dedicated to their kids. They have built a firm with one of Northern Virginia's few sustainable, responsible investment strategies (SRI) and they hope to pass it on to their children someday. 
The firm owners believe that serving families through a process that supports family harmony, preserves family history and nurtures family values is the key to true wealth. It begins with a responsible Investment Strategy and by equipping clients with three (3) tools for creating sustainable wealth. They call this process Family Governance. It goes beyond traditional financial planning by adding the "values management" and family history component. 
For more information about our strategies, just book an introductory call: Introductory Call