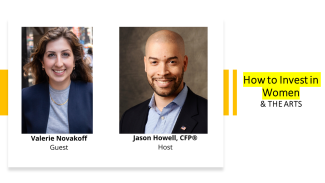 (VIDEO) IMPACT Investing in Women and the Arts
"I miss the humanity. I miss seeing people breath and talk and sing and dance.  Remember the arts; keep them top of mind. Especially when we go through this economic recovery. We need your support." 
- Valerie Novakoff
Investors in the arts worldwide are using the financial industry to improve the causes and communities they believe in. Valerie Novakoff, Founder of the Broadway Women's Fund (BroadwayWomensFund.com) discusses IMPACT investing; what her study revealed about Broadway gender diversity and how Broadway will survive COVID-19 in 2021 and beyond.
Valerie answers the following questions:
What is an impact investment fund?
What did her studies reveal about gender diversity on Broadway? 
What is her (firm's) mission?
Who can invest in the Broadway Women's Fund?
Jason Howell Company (JHCo.) is an independent, family wealth management firm run by two owners who consider it their family business. Jason J. Howell, CFP®, CSRIC® and Douglas W. Tees, MBA, CFP® are both married to patient wives and are dedicated to their kids.
The firm owners believe that serving families through a process that supports family harmony, preserves family history and nurtures family values is the key to true wealth. It begins with a sustainable Investment Strategy and continues by equipping client families with three (3) tools for creating sustainable wealth. Most JHCo. clients invest their time, talent and treasure in the community. Jason Howell Company enjoys serving clients who go beyond being stockholders to true "stakeholders." JHCo. calls this work total family governance and it's their specialty. Doug and Jason empower communities, one family at a time.
For more information about our strategies, just book an introductory call: Introductory Call