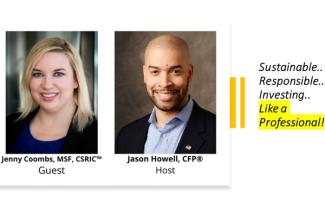 (VIDEO) Sustainable. Responsible. Impact Investing (SRI)
Jenny Coombs is the creator, lead author, and lead instructor for the Chartered SRI Counselor™ (CSRIC™) designation education program. She is associate professor at the College for Financial Planning (Cffp.edu/). Jenny describes the "socially responsible investing" evolution over the past 5 decades from a religious "screen" to ESG screens that manage corporate risk.
"Soon this won't be called Sustainable Responsible Investing; it's just plain investing."  ~ Jenny Coombs
Sponsored by Jason Howell Company* (JasonHowell.com)
Jenny Coombs answers these questions specifically:
What is SRI/ESG/Impact Investing?

How is this kind of investing driving real change?

How "big" is SRI/ESG/Impact investing?

What do most investors not yet know about SRI?

How important is Shareholder Engagement?

What are your thoughts on recent SEC news?
*Jason Howell Company is an independent, family wealth management firm run by two owners who consider it their family business. 
Jason J. Howell, CFP® and Douglas W. Tees, MBA, CFP® are both married to patient wives and are dedicated to their kids. They have built a firm with one of Northern Virginia's few sustainable, responsible investment strategies (SRI) and they hope to pass it on to their children someday. 
The firm owners believe that serving families through a process that supports family harmony, preserves family history and nurtures family values is the key to true wealth. It begins with a responsible Investment Strategy and by equipping clients with three (3) tools for creating sustainable wealth. They call this process Family Governance. It goes beyond traditional financial planning by adding the "values management" and family history component. 
For more information about our strategies, just book an introductory call: Introductory Call