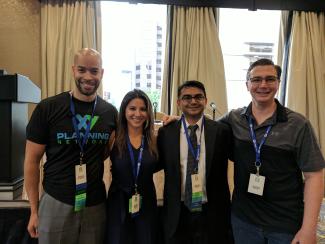 Serving Clients Unconventionally at the "Un"Conference: XYPN17
DALLAS, TX - On Tuesday , August 29th, I had the pleasure of moderating the "Diversifying Your Service Model" breakout session for the 2017 XY Planning Network.  As a member of XYPN and their Advisory Committee, one of the things I like most about the organization is their commitment to serving the next generation f advisers, who in turn serve Generation X and Y.  At this panel, we spoke about the ways we could serve clients at various stages of wealth development.  
The seminar began with the recognition of the different service models currently available to clients.  Ultra high net worth families have access to "family offices" that serve clients who have at least $10 million in accumulated wealth. They offer investing, accounting, tax, insurance, mortgage banking and estate planning all under one umbrella.  Private banking departments in major brokerages serve clients with $2 million or more. They offer clients investing, loan and some light accounting services.  Standard brokerage firms prefer families that have at least $500,000 in liquid wealth.  Typically they focus on offering standard investing services.  And families who have less than $250,000 are typically served by retail banking and insurance based brokerage firms.  It is usually associated with a la carte sales of financial products.  As Registered Investment Advisory firms, the members of XY Planning Network - of which Jason Howell Company (JHCo.) is a member - have the fiduciary responsibility to serve clients comprehensively regardless of wealth.  
The panelists at the seminar included Helen Ngo owner of Capital Benchmark Partners (CBP) who shared how her firm is currently serving clients 1 to 1.  As she grows her firm, she intends to offer webinars that will allow CBP to serve hundreds more clients, "1 to many."  Sanjay Jain, a medial doctor and author of Optimal Living 360 discussed how he often serves clients by helping to manage their behavior.  His book allows hundreds of families to self manage their challenges before working with him directly.  Cary Cates, owner of Cates Tax Advisory, is serving clients by focusing on tax planning - before tax preparation season - and on an incidental basis he offers financial planning advice.  By offering a focus on tax, he is able to mitigate many questions families face when planning for their overall life goals.
Notable about all three of these financial industry leaders is they find a way to serve families in a respectful and comprehensive way.  As is typical of firms associated with the XY Planning Network, they are constantly seeking ways to profitably serve families all along stages of the wealth spectrum.