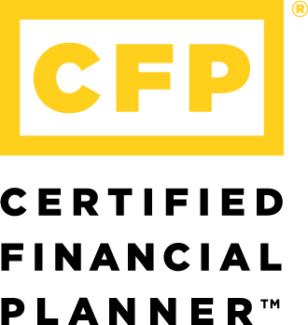 What is a CERTIFIED FINANCIAL PLANNER™ (and Why Do I Care)? #CFPPro
FAIRFAX, VA circa 1997 - 20 years ago, I was just graduating from George Mason University with a degree in accounting, ready to one day to take the CPA exam.  I was full of ghost stories about how difficult the CFP® exam was.  I heard it was "full of math," divided into 10 sections and even for an accounting graduate - admittedly, I wasn't the top of my class - entirely too hard to even consider.  What I didn't know was the CFP® exam was in my future.
Sometimes people ask how I "got into" financial planning.  It seems most financial advisors are "career changers" but that title always feels a little inaccurate for me.  I ran into the financial advice profession early on as a bank teller while attending Mason.  And eventually I bumped into an Estate Planner who told me how great his job was because families told him all of their secrets!  That was the first time I thought about a career outside of staring at a computer screen (i.e. accounting).  Since my father had a PhD., it was a "matter of fact" that I would eventually get some kind of graduate degree. I planned on heading to law school, just as soon as I passed the CPA exam.  Well, passing the CPA exam never happened so neither did law school (though I received a conditional acceptance to Mason's Law School back before they were ranked in the Top 50).
Throughout my 8 year accounting career, I had been offered many opportunities to work in the personal financial advice industry and always had a reason to turn those offers down.  Just before I graduated, it was Ameriprise (formerly known as American Express Financial Advisors) that offered me my first job offer.  Unfortunately back then, what they really "offered me" - after 6 interviews mind you - was  a chance to make $5 per hour for two weeks of cold calling.  If I survived, then I could go to training in Minnesota for a week.  And if I survived that, I would be rewarded with more cold calling (but not even for the $5 per hour - it would all be commission pay).  Mind you the exams at the time for licensing cost a total of nearly $800 and were not going to be subsidized by AMEX.  My deft accounting skills told me that I should take a job in my major instead; so I accepted an offer with a consulting firm that paid $30,000 per year (or $15 per hour) and didn't require additional licenses. 
Over the years financial services firms like New York Life, Prudential and even lesser known Primerica all crossed my path but the timing never felt right.  It wasn't until I lost my campaign for U.S. Congress in 2012 that a friend took me to breakfast and helped me take the plunge.  My friend Paul was a third generation New York Life agent and believed strongly in their mission and their people. Armed only with a notebook and the reality that I had to get back to work - but still wanted to serve at least the 10,180 constituents who voted for me - I went to visit his boss. It turns out Scott was a great boss and his team taught me more about life insurance and annuities than I think many financial advisors who have been in business for decades, will ever know.  I enjoyed my tenure at New York Life, what I learned and the people I met. The leadership in our office seemed to exemplify the Ritz Carlton motto: "We are Ladies and Gentlemen Serving Ladies and Gentlemen." To my former colleagues who may read this, thank you.
Eventually, through my own research, I also learned about the positive aspects of a "fiduciary standard" and how to start a non-product oriented, non-commission, independent firm.  After two and a half years I took another plunge to do just that - start an independent, fee-only, fiduciary wealth management firm called, Jason Howell Company. 
Just before I started my firm, I had begun the journey of studying to become a CERTIFIED FINANCIAL PLANNER™.  But why?  What I started to learn from working at New York Life, and researching so many other firms and advisors, is that the profession of giving financial advice was changing. I learned in fact, it was becoming a profession rather than what most people still think it is - a place where sales people in suits swindle your money through hidden fees.  In fact this growth into a profession is something that began in 1969 and is documented in Financial Planning 3.0; a book written by the late, great, Richard B. Wagner, JD. CFP®.  There are more than 300,000 financial advisors in the country but less than 80,000 are CFP® professionals as of this writing.  One way I hoped to differentiate myself from the other advisors was by studying the curriculum and passing the test.  But like the CPA exam that I never passed in the late 1990's, I learned that passing the test was going to take much more than "just" studying. I learned that I had to want it for many more reasons than just to stand out from the other advisors. I had to want it for myself, my family and the health of my profession.
The CFP Board of Standards - the organization that regulates the CFP® mark - considers it their mission to "Benefit the public by granting the CFP® certification and upholding it as the recognized standard of excellence for competent and ethical personal financial planning." To qualify to use the marks, there are a whole list of requirements known as the "4 Es"including:
Education - a bachelors degree plus a college-level program of financial planning study
Examination - a 6 hour test to assess your ability to apply financial planning knowledge in an integrated format
Experience - 6,000 hours of experience on your own or 4,000 hours as an apprentice 
Ethics - adherence with their Standards of Professional Conduct
Not counting my college degree, all of this probably cost me a few thousand dollars plus any lost revenue from the hundreds of study hours I spent not prospecting for new clients over the past few years.  But was it worth it?  Yes.  Beyond the benefits of the CFP®Pro marketing campaign that began this Summer, it was worth the journey I took to become a CFP®.  It was a journey I took with my family, friends, peers and even my COO  - Doug W. Tees.  The day before the exam I made a list of 25 reasons that I wanted to pass and I still think I left that list a little short.  At the top was relieving my wife's schedule that included managing our two little girls on evenings and weekends (when for some reason daycare gave them back to us!).  There was the list of people I wanted to impress that of course included family, clients, peers and prospective clients.  There was the memory of my Dad who always thought - since I never got that graduate degree - that my name needed letters after it.  And then there was the even number 20:  it had been 20 years since I graduated college and I still just had that one degree.  Despite the twists and turns of the plot in my career arc, I wanted to call financial planning my professional home.  I wanted to be the jack of many trades that I am, but finally a master of at least one.  
Thanks to the CERTIFIED FINANCIAL PLANNER™ designation, I am that much closer to mastering this financial planning profession. I am that much closer to mastering who I want to be for my friends, family and community.  In an odd way, now in my 40s, I am that much closer to mastering my life.  
But of course, I have a ways to go.
Jason Howell Company is an Investment Adviser registered with the Securities and Exchange Commission / State(s) of Virginia. All views, expressions, and opinions included in this communication are subject to change. This communication is not intended as an offer or solicitation to buy, hold or sell any financial instrument or investment advisory services. Any information provided has been obtained from sources considered reliable, but we do not guarantee the accuracy or the completeness of any description of securities, markets or developments mentioned.
Certified Financial Planner Board of Standards Inc. owns the certification marks CFP®, CERTIFIED FINANCIAL PLANNER™, CFP® (with plaque design) and CFP®(with flame design) in the U.S., which it awards to individuals who successfully complete CFP Board's initial and ongoing certification requirements.