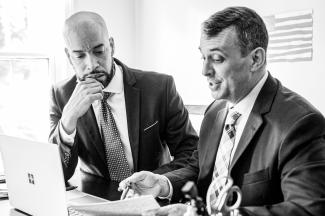 Letter to Stakeholders, June 2023
Wednesday, June 7th, 9:02 am EST. Crisis averted. Phew.  No longer in the news, our nation's self-inflicted "debt ceiling" drama is over until 2025. There are many who say there "was always going to be a deal," but the past few years have shown us that unprecedented things happen. We are glad the United States defaulting on its debt obligations didn't. We kept steady with your investments all along the way.
There will undoubtedly be more political turmoil – as evidenced by a recent US House floor vote on gas ranges – but most other issues pale in comparison to potential U.S. default. In other news, the non-profit shareholder advocacy group As You Sow made news recently and our firm recommitted to 1% for the Planet.
Shareholder Advocacy
Investing to turn a profit while adding attention to our shared climate, societal and various other risk factors is how we incorporate sustainability into your portfolio. But what's gotten many politicians "up in arms" is shareholder advocacy: the idea that you (or a fund company on your behalf) may actually vote on proxy proposals you care about.
Most individual investors don't vote their shareholder proxies – topics range from executive compensation to who could/should sit on the board of directors (shareholders don't get to vote on fun things like products or services but executive compensation and board composition have a lot to do with operations). Of course, evaluating how to pay a CEO or who should sit on the board takes more time than non-professional investors are willing to give. This is where As You Sow decided to step in. For those aligned with their Environmental, Social and Governance (ESG) stances, you can now sign up for a Proxy Voting Web-App and they will do the voting for any securities you own that meet the voting threshold requirements. Since about 25% of all securities are held by individuals but over 70% don't vote, this solves a problem for those aligned with the As You Sow guidelines.  Because we don't vote proxies on behalf of our clients, if you are so inclined, you can sign up with As You Sow, using their Iconik Proxy Voting Platform.  Full Disclosure: I started the process personally but then stopped short. Whether to "give up your (corporate) vote" is a big decision. I'm still thinking about it.
1% for the Planet: Renewed!
Last month we recommitted Jason Howell Company to donating 1% of our revenue to non-profit organizations who exist to serve the planet. In 2022 we chose Northern Virginia Food Rescue as our designated recipient for the work they do creating food access while reducing food waste (and methane gas in the atmosphere). The process to renew our commitment included submitting our 2022 tax return and our donation receipts to 1% for the Planet; an organization that certifies this commitment. You may remember our interview with their CEO, Kate Williams in January of 2022.
Our firm is committed to philanthropy. Both Doug and I volunteer many hours per year within our local communities. Doug invests his time heavily with Langley Residential Support Services in Vienna, VA and I spend a lot of time volunteering through my alma mater, George Mason University in Fairfax, VA; in particular the recently named Donald G. Costello School of Business.  But last year we made a decision to donate money directly from our firm for the causes we believe in; just like you do. And of course it bears repeating that Doug is in a rare group of financial advisors who have earned the Chartered Advisor in Philanthropy® designation to answer your questions. In August, Doug will be a featured speaker for the National Capital Area Financial Planning Association NextGen Retreat so other advisers can learn from his expertise. Go Doug!
Summer's Numbers
The much predicted US recession hasn't quite hit yet. Thanks to a short list of large technology companies, "the markets" have held up so far too. There are still those – like  Bank of America's CEO – who are predicting a recession of some sort. For you that may mean you will see your balance go down this Summer (perhaps June, maybe July). You should neither hold your breath for it, nor worry about it. Your plan is in place and these past few months have made up some ground on 2022.
Enjoy the start of Summer!
Jason J. Howell, CFP®, CPWA®, CSRIC®
President
---
Jason Howell Company is an independent, family wealth management firm who believe in empowering people who are first generation success stories.
Jason J. Howell, CFP®, CPWA®, CSRIC® and Douglas W. Tees, MBA, CFP®  are each married to patient wives and are dedicated to their kids. Jason and Doug have built a firm with a great reputation. The firm is based in Northern Virginia but serves clients (virtually) all throughout the United States.  
Our typical "first generation" success stories include dual income parents who work, save and have just the right amount of fun. They trend a little older - Baby Boomers (born 1946 - 1964) and Gen-Xers (born 1965 - 1980) - but we're starting to see more Millennials (born 1981 to 1996) who don't want to wait until it's too late. They earn impressive incomes and have accumulated a good bit of savings. As bona fide experts themselves, they expect fiduciary expertise from people they hire. They are just not sure about the "big box" brokerage firms that advertise one thing and seem to do another. 
First generation clients feel more confident about their decisions because:
Implementing a professional investment strategy relieves the stress of managing $1 Million+ 
Discussing money with professionals improves family communication about  family values and lifestyle
Identifying time and money for causes they believe in make them feel like whole persons
Working directly with independent business owners rather than "big box" bank employees just feels right
Redefining the meaning of affluence in the 2020s (and beyond) is important to their legacy
To contact us for a free initial conversation, click here.