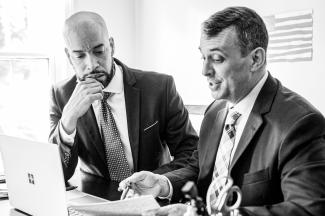 Letter to Stakeholders, May 2023
Friday, May 5th, 3:02 pm EST. Spring has sprung. Despite recent bank failures, rising interest rates and incessant talk of recession, your balances are up this year and so is the country's Gross Domestic Product (the total of our country's production). So far so good. The next few months and into the Summer may see the most volatility (up and down) for the year but your investment strategy was built for volatility. Your plan was designed (and is updated) to make it through volatility too.
And while we're making predictions, let's focus on something that we know will happen and perhaps we haven't spoken enough about: TD Ameritrade becoming Schwab.
TD Ameritrade Institutional is now Schwab Advisor Services
All independent firms that choose to manage money need a brokerage/custodial relationship. In 2016 we used a lesser-known firm called Shareholder Services Group to hold and trade our client funds. They have since been acquired. We later chose Folio, based in Fairfax County (they had some great technology). They too were acquired (by Goldman Sachs). We had also taken the opportunity to partner with TD Ameritrade [Institutional (TDAI)]. Alas, they have now been acquired, by Schwab.
Schwab is one of the reasons that there are independent firms. In 1987, they launched Financial Advisor Services "to serve independent investment advisors" like us. We don't work for Schwab, just as we didn't work for TDAI, Folio or Shareholder Services Group. We work for you. Like you, we prefer smaller, independent firms. In our firm history however, we have seen two other custody providers acquired. This third transition promises to be easy. Here's an excerpt from an April 27th email from Schwab:
"At the end of June 2023 (approximately 2 months before conversion), we will send an Account Transition Notice (also known as the Negative Consent Letter) to your existing clients. This letter provides details about the transition, including timing, what to expect, how to opt out of transferring to Schwab, disclosures, and information about what your clients' Schwab cash sweep feature will be once their account transitions. Your existing clients do not need to take any action regarding the negative consent..."
So there you have it: you "do not need to do anything."
And here is a link to a letter you will receive from Schwab in the coming weeks: letter.
Questions? Just call me: 703-867-2387.
Debt Ceiling Deadline
One of the grey clouds hovering above the economy is the debate around raising our nation's debt ceiling. In our October 2021 Letter to Stakeholders, I summarized that back in 2011, I was passionate enough about this topic to run for office. Well, here we are again, teasing the global community with the thought that the United States Government may not be politically capable of paying its bills. Our latest estimate for when we might breach the debt ceiling is less than a month away. What can we do? Well, I'm not going to run for office this time, but I will be no less vigilant. Our eyes are on the stock and bond markets, interest rates and inflation. No one knows exactly how the world will react if we "breach." If we do, I am certain the bills will get paid (eventually) but our nation's reputation will… change.  We'll be here regardless.
Alternatives
As public stock and bond markets vacillate, institutional and otherwise sophisticated investors are looking to private alternative investments for growth. We are too. We believe sharing what we know about Private Equity, Private Credit/Debt, and Venture Capital with you makes for better planning.  In prior months we focused on Structured Notes since we plan to work more with those tools this year. But look to this space for introductions to other alternatives to traditional investing.
And thanks for the Spring Check-Ins this month!
Jason J. Howell, CFP®, CPWA®, CSRIC®
President
---
Jason Howell Company is an independent, family wealth management firm run by two owners who believe you should feel good about money.
Jason J. Howell, CFP®, CPWA®, CSRIC® and Douglas W. Tees, MBA, CFP®  are each married to patient wives and are dedicated to their kids. Jason and Doug have built a firm with a great reputation. The firm is based in Northern Virginia but serves clients (virtually) all throughout the United States.  
Our typical "first generation" client households include dual income parents who work, save and have just the right amount of fun. They trend a little older - Gen-Xers (born 1965 - 1980) and Boomers (born 1946 - 1964) - but we're starting to see more Millennials (born 1981 to 1996) who don't want to wait until it's too late. They earn impressive incomes and have accumulated (or are accumulating) a good bit of savings. As experts themselves, they expect expertise from people they hire.  
First generation clients feel more confident about their decisions because:
Implementing a professional investment strategy relieves the stress of managing $1 Million+ 
Discussing money with professionals improves family communication about  family values and lifestyle
Identifying time and money for causes they believe in make them feel like whole persons
Working directly with independent business owners rather than "big box" bank employees just feels right
Redefining the meaning of affluence in the 2020s (and beyond) is important to their legacy
To contact us for a free initial conversation, click here.