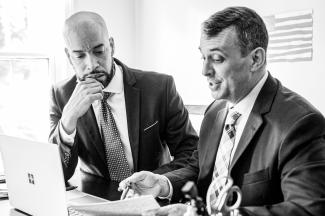 Letter to Stakeholders, October 2022
Read or Listen: 
Tuesday, October 11th, 3:56 pm EST. This is what they want. A stock market that's cold, a housing market that's cooling and (eventually) an economy that's near frozen. And it's not happening fast enough for them. For a long time, we have enjoyed the stock market benefits of a near zero interest rate monetary policy from the Federal Reserve ("the Fed"), which is the Central Bank of the United States. Over the last 9 months, that policy changed dramatically. That change has negatively affected most everyone's portfolios in the fight against inflation. Nothing that has happened this year has distracted from that fight or these new higher interest rate policies (domestically or around the world).
There is a small chance that the Fed will slow down the historic pace of increases but it is not likely. They may be forced to slow the "economic tightening" because some of the biggest investors in US treasuries aren't buying. Regardless, this is why we stress planning in our work with you. We are glad that our Fall check-in meetings begin this week. Instead of hearing about the world economy's finances, we want to share how you are doing.  
If you haven't scheduled your Fall check-in meeting, write Doug@JasonHowell.com
What's the Alternative?  
Last January I wrote about "keeping an open mind" on alternatives to the traditional stock and bond ETFs (Exchange Traded Funds); where we normally invest your funds. The benefit to the ETFs we use include liquidity (the ease in trading them) and the low fees. Building your portfolio with ETFs allows us to maintain the academically sound "Efficient Market Theory" investing philosophy. This allows us to effectively balance the drawdowns in the stock market with the gains in the bond market (like we did in the Spring of 2020).
The challenge in today's markets is we are seeing drawdowns in both stock and bond markets. This is called "high correlation." Rebalancing portfolios when the investments are going up and down in tandem is not very affective. Is there an alternative? Yes.
Core and Satellite
We still trust efficient market theory for the core of your investment portfolio (perhaps 80%). With an overlay of sustainable investing principles, we expect your portfolio to perform well in the long-term. What we will discuss with you during our Fall check-in meeting is taking advantage of the high bond yields by using actual bonds vs. bond funds. The opportunity to "lock-in" a risk-free rate of 4% for one or two years or a longer-term bond for a yield of more than 3.5% is just too great to pass up. We also see an opportunity with structured products; in particular, structured notes that leverage the benefits of derivatives used in the bond market. For clients who qualify as accredited investors we have engaged experienced partners that will allow us to offer private equity, venture capital, private debt and other private investments. 
Investing in these alternatives to the traditional stock and bond ETFs will help you take advantage of both a unique time in economic history and investments that are less correlated to the whims of central banks around the world. We'll talk more during our Fall check-in.
Did You Know?
Billionaire Mark Cuban, owner of the professional basketball team, the Dallas Mavericks and "Shark Tank" judge, decided to fight the prescription drug industry. So far, he's winning.  
CostPlusDrugs.com is apparently Cuban's legacy play. He's invested $100 Million of his fortune to do something most US politicians have been unable to do: reduce the price of prescriptions. The one exception is President Joe Biden's Inflation Reduction Act of 2022 which will allow Medicare to negotiate drug prices.  For your friends and family who are not yet age 65 or older, check out CostPlusDrugs.com. It could save them a lot of money.
Stakeholder Spotlight
Earlier today I had a call with a friend from my alma mater, George Mason University. She's serving on our alumni board but has another passion: the revolution by women in Iran. As topical as our conversation was, my friend reflected upon a related story that was drowned out by the start of the 2020 pandemic. In January of 2020, Ukraine International Airlines Flight PS752 was shot down by Iran's Islamic Revolutionary guard killing 176 people. Nearly 3 years later, no one knows why (including the families of the victims).
This month's stakeholder spotlight shines on PS752Justice.com
Have a meaningful month,
Jason J. Howell, CFP®, CPWA®, CSRIC®
President
---
Jason Howell Company is an independent, family wealth management firm run by two owners who believe you should feel good about money.
Jason J. Howell, CFP®, CPWA®, CSRIC® and Douglas W. Tees, MBA, CFP®  are each married to patient wives and are dedicated to their kids. Jason and Doug have built a firm with a great reputation. The firm is based in Northern Virginia but serves clients (virtually) all throughout the United States.  
Our clients are "first generation wealth" and can feel guilty about how much they make and how much they spend compared to how they grew up. They are also concerned about how their wealth affects their sibling relationships and their kids.
We facilitate feeling "good about your money" in three ways:
Family Governance: We walk the principles through a process that gets them talking about what it was like to grow up with money, how they pay bills and save today and what they want their family legacy to sound like. This turns into a "Family constitution."
Sustainable Investing: We match the values derived from the "Family Constitution" to a sustainable investing strategy that incorporates an adaptive efficient market theory with environmental, social and governance factors
Proactive Philanthropy: Many of our clients will have a little extra, even after they achieve their family's personal goals. We show them how much they can afford to be giving while living to the people and causes they care about
To feel good about your money, just book an introductory call here: Introductory Call