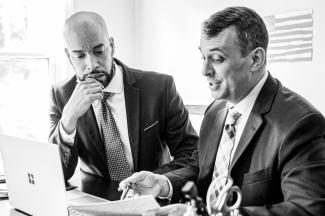 Letter to Stakeholders, April 2022
Friday, April 15, 09:36 am EST. Beware the "ides of April," is not a warning or a saying you have ever heard of. As I write this in the midst of public-school spring breaks, hopefully you too have taken a break -at least from the news. We are really in the middle of it all these days.
You needed a break from Russia's war with Ukraine, new COVID-19 variants, the decline of human rights in Afghanistan, the growing food supply crisis, the seemingly ever-increasing inflation and the cold (except for our Florida clients). It is warmer these days, but the rest of that list is unfortunately still news.  Well, we're not going to spend much time on that stuff in this letter.
How the Economy Works
One of my favorite videos to share with finance students is How the Economic Machine Works (click link) by Ray Dalio. In 30 minutes, the now retired billionaire founder of the Bridgewater hedge fund explains what we should have been taught in grade school: our economy is just the sum of transactions. One person's spending is another person's income. That's the case whether it's with cash or debt; institutions or individuals. In prior stakeholder letters, I have described the investment philosophy that underpins our strategy for your portfolio. Today I will just say this: as long as people are willing and able to exchange value, the markets will (eventually) go up. The timing of those market fluctuations is what we manage on your behalf. Now that's a less than 30-minute summary but I still recommend watching Mr. Dalio's video.
US Dollar as Reserve Currency
We're following a lot of recent talk about the decline of the US Dollar as the world's reserve currency. This is one of those systemic, economic risks that not even the traditional "diversified portfolio" can protect you from. The money that foreign central banks hold in US currency has recently declined to 58.8%. Compare that to 85% held in 1977 and it makes you wonder whether the world still has faith in the US economy.  Thankfully, the 2nd largest held currency in the world (the Euro) is far behind us at about 20% so there isn't a viable alternative (yet). US federal and central banking policy on inflation, debt accumulation and how we strategically weaponize the dollar will impact what happens with our reserve status in the future.  For more on this our billionaire friend Mr. Dalio has a long Linkedin post (click link) explaining how economic policy can fast become geopolitical issues with significant effects.
Stakeholder Spotlight
Last month we hosted a couple of guest speakers and on March 31st it was Patrick Drum, CFP®, CFA®, MBA of Saturna Capital who schooled us on sustainable sovereign bond investing. What's fascinating about the financial industry is:
There is always more to learn

There is always another way to use capital for good
Writing this am I reminded that I needed to follow up with some of the things I learned from Patrick. For example, he spoke about bonds in Brazil and Mexico that are supporting sustainable ventures and providing outstanding returns. They do this through currency exchange arbitrage – meaning the differences in currency prices – allowing his institutional clients to lower risk while increasing the return. The trick? You have to know what you're doing. Watch and listen to how Patrick and his team support sustainable impact using international debt by clicking here.
Spring Forward
Thank you for joining us last month and this month for our Spring Check-In meetings. Doug and I enjoy meeting with you. Having the bookends of Spring and Fall hopefully ensure that we are always helping you prepare for the year ahead. As we wind down these meetings this month, we are freeing our calendars to accept new members of our client family. Our best referrals have historically come from you. Connect a friend to us with an email introduction.
Many of you were "up" in March (your returns) but expect the Spring to have continued "ups and downs" (volatility). The world is still adjusting to those newsy(heavy) topics I mentioned at the beginning of this letter. So are the markets. Until next month, enjoy the warming weather.
At your service,
Jason J. Howell, CFP®, CPWA®, CSRIC®
President
Jason Howell Company is an independent, family wealth management firm run by two owners who believe you should feel good about money.
Jason J. Howell, CFP®, CPWA®, CSRIC® and Douglas W. Tees, MBA, CFP®  are each married to patient wives and are dedicated to their kids. Jason and Doug have built a firm with a great reputation. The firm is based in Northern Virginia but serves clients (virtually) all throughout the United States.  
Our firm owners believe that dual-income parents with high achieving kids want to feel good about their financial success. They just need to know how. You have a plan for your life and causes you believe in. We fit that plan to your finances so you can feel confident, excited, generous, hopeful and good about your money.
Our process begins with our responsible Investment Strategy and by equipping our clients with three (3) tools for creating wealth that's well, useful: 
Your Personal ROADMAP (PR) which identifies 40 to 60 recommendations to improve your financial plan (the "what")
Your Implementation Guide (IG) which priorities (by month) when you ought to implement those recommendations (the "when")
Your Family Constitution (FC) which clarifies how those recommendations connect to your values (the "why")
We call this process Family Governance. It goes beyond traditional financial planning by adding a "values" component. Whose values? Your values. 
To feel good about your money, just book an introductory call here: Introductory Call