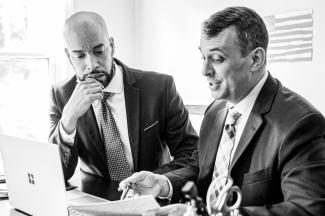 Letter to Stakeholders, February 2022
Tuesday, February 8, 1:01 pm EST. None of us like to see our investment balances go down but that's just what most of us saw in January. It is emotionally unsettling, even for some investment professionals. How do we deal with it? We ask why, we look at why we are invested a certain way and if necessary, we recalibrate. If the move is large enough, we might even rebalance the portfolio. Along the way, we ensure our clients maintain their ability to achieve their goals. Implementing a rational investment philosophy is how we do that.
Investment Philosophy
Most professional investors and advisors who have clients, work with what's called an "Investment Policy Statement" or IPS. An easy description for this document would change one word to make it Investment Philosophy Statement.  You can see our firm's investment philosophy on our website. Much of it is written in the IPS we wrote for your portfolio.  What you may notice is we have a rational, academic method of creating portfolios for you. How we "allocate" percentages of large and small, international and domestic investments is then informed by the timing of when you need access to your money. We manage towards the efficiency of the overall financial markets to deliver an average of historical returns. We then shave a few percentage points off of this average (to be conservative) and build your plan. This estimate gives you a "buffer" to achieve your goals, even if average history doesn't repeat itself.
On any given year or any given month, "the market" may look, well just sad. There is a concept in investing called "market (or investing) sentiment." Some people who would like to guess which way investments will go use different financial indicators to guide their sentiment and apply behavioral financial or animal spirits theory to portfolios. We don't do that. As we wrote in December, we do pay attention to economic indicators like inflation. Our economy's current concern is whether we will have inflation coupled with slow overall economic growth. Rising prices with lower wages and layoffs isn't good for anyone. But last week's surprisingly good job's report highlights for now that last January's fear of stagflation is less likely. We will see. Regardless, the way we invest your money allows for alarmists, talking heads, fancy economic indicators and even the Federal Reserve to do or say what they will. You have a plan.
1% for the Planet
Last week we had the honor of hosting One Percent for the Planet CEO,  Kate Williams and one of her member firms, Steve Gruber of Bluestone Life. If you missed the presentation, click it here. Doug and I are currently in talks to give 1% of our firm's revenue to local non-profits and certify that giving through One Percent for the Planet's platform. More to come!
Final Updates
You have likely started receiving your W-2s and 1099s which are all of course tax forms to prepare you for filing taxes this season. Note that if you or friends of yours received the Child Tax Credit, the information you file may be inaccurate. Work with a tax professional so if you get a tax notice later in the year – or next year! – you'll have a professional to help you engage with the IRS.  In other IRS news – this is good news – the agency has planned to stop requiring facial recognition software to access your records on their website. Sheesh. That's a relief.
We are looking forward to meeting with you for our Spring Check-In meetings. If you haven't yet, please book your time here.
And with that, I yield the balance of your day.
Jason J. Howell, CFP®, CPWA®, CSRIC®
President
Jason Howell Company (JHCo.) is an independent, family wealth management firm run by two owners who consider it their family business. Jason J. Howell, CFP®, CPWA®, CSRIC® and Douglas W. Tees, MBA, CFP® are both married to patient wives and are dedicated to their kids.
The firm owners believe that busy, dual income couples should feel good about building wealth for their families. "Feeling good" begins with building your financial plan and continues with drafting your family values, standards and aspiration around money into a family constitution. Building this "family constitution" through a family governance process is what makes Jason Howell Company unique. We also help our clients implement a sustainable investment strategy (SRI, ESG) and a proactive strategy for philanthropy. And despite how serious this all can be, the two owners strive to keep keep meetings lighthearted with their energy and good humor. 
Jason Howell Company: Feel Good About Your Money™
To feel good about your money, just book an introductory call here: Introductory Call